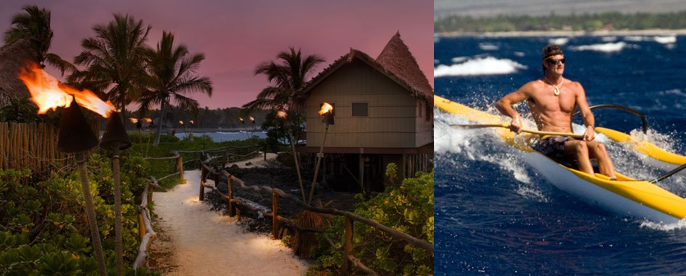 Our next LUX Destination spotlight is Kona Village. Kona Village is located in, well…Kona, on The Big Island. This 82-acre resort encompasses everything the beautiful Kohala Coast has to offer – palm trees swaying, glistening lagoons, piled lava rocks, black sand beaches, and the ocean. Focused on traditional Polynesian culture, the resort is made up of 82 oceanfront hales, or bungalows, that come free of phones, TVs, radios, or internet, forcing the overworked traveler to really relax into the aloha spirit.

Upon arrival at Kona Village, expect to be greeted with a traditional Hawaiian lei of orchid flowers. After check-in, one is swept away by a golf cart to one's hale. Each hale is cooled by the breeze of the tradewinds blowing through its slatted doors from the sea; only ceiling fans are used for extra circulation, and there's not even a lock on the door. As unconventional as it may sound, there's something very quaint in having to write messages to your resort staff on a clipboard outside your door or placing a coconut on your front porch as a sign of do not disturb.
Appropriately named, Kona Village was once a fishing village. To preserve and respect the land that was once frequented by the King and other royalty, the resort is set up to resemble a Polynesian village. The hales are elevated by stilts to protect from high tide and the roofs are thatched; some hales even come with a private hot tub on the deck – not authentic, but a luxurious necessity.
Kona Village is Hawaii's only 'inclusive' resort and offers many resort dining options. Much of the Hawaiian cuisine served is sourced from local farms on the island. You can taste the difference in freshness from the fruit alone – it's colorful and sweet, as if it were just plucked off the tree. In fact, more than 70% of all the produce consumed at Kona Village is from The Big Island. As authentic as its culinary presentation, Kona Village also puts on an island-renowned luau.
Along with the dining, many water sport activities are included in the daily 'inclusive' rate. You can snorkel, canoe, kayak, or use a paddleboard to explore the ocean. Since the property has such an expansive beachfront, there is plenty of space for guests and turtles to bask in the sun. On a stroll along the beach, one is sure to spot a Hawaiian Sea Turtle lounging on the sand or feeding near one of the many natural tide pools.
The most spectacular thing about the resort is really the authentic Hawaiian experience it has maintained for its guests. From the accommodations, to the food, to the entertainment, and the natural setting, there is an ancient story told through the hospitality at Kona Village.
Rates start just under $300.
Kona Village Resort
www.konavillage.com
Kona Village Resort
Kohala Coast
Kailua Kona, Hawaii 96745
[nggallery id=36]