Traveling can be an adventure or it can be torture depending on how far you have to go and your level of preparedness. In the perfect world, we would all travel on a private jet ensconced in a fluffy robe and sipping on a glass of Chardonnay. In reality, we can simply improve our travel by arming ourselves with gadgets and other travel accessories to make our trip easier. Of course, we are sure you will have your laptop and smartphone on hand already. So here is our list of some of the best travel accessories of 2019 that will make your trip go more smoothly.
Mophie Wireless Charger
Apple and Samsung users with Qi-enabled devices know just how hard it is to keep their gadgets fully powered on the go. Instead of lugging around a bevy of cords, wires, and bulky attachments, opt instead for this handy wireless charger. The Charge Stream Powerstation Wireless XL is the perfect way to charge your device on the go. It is about the size of your average phone making it an easy item to carry. The battery has 10,000mAh, which also give it the power it needs to supply a healthy dose to your power hungry gadget. If you need to charge via a cable, it also has a quick charging 10W USB-A port. This allows for two devices to be charging at once, which was our favorite part a we were testing the device. The Mophie wireless charger retails for $99 making it the perfect wallet-friendly travel accessory that will be useful all year long.  
Away The Bigger Carry-On
More travelers are getting rid of a large bulky suitcase in favor of traveling light. If you are tired of trying to fit your carry on items in a small bag, the Away The Bigger Carry-On is just what you need. It has a hard outer casing to protect your delicate items as well as two compartments on the inside for easy organization. For those traveling just for the weekend or other short trips, it even features a waterproof laundry bag for dirty clothes. Since you are converting your smaller carry on to a larger model, you no longer need to carry a laptop bag or charger. This handy bag has a built-in charger just under the handle that runs on an airline compliant battery. That means you can charge up while you are waiting in line for your flight or on your way home.
AirPods
Turing up the jams and tuning out is one of the best ways to get through a long flight. At the same time, nothing is more aggravating than spending half of your trip untangling headphone wires. Thankfully, Airpods are here to the rescue. They are the perfect way to tune out while you travel. They come with a carrying case that doubles as a charger and the also double your direct connection to Siri. Airpods only need to be set up once and they are compatible will all Apple devices making integration simple. For $160 you can be on your wire with these wireless travel companions in your pocket. Pro tip: upgrade to the Airpods wireless charging case so you can lay your Airpods down alongside your iPhone on your wireless charging pad to get charged for the night.
Bose Noise Canceling QuietComfort 35 Wireless Headphones II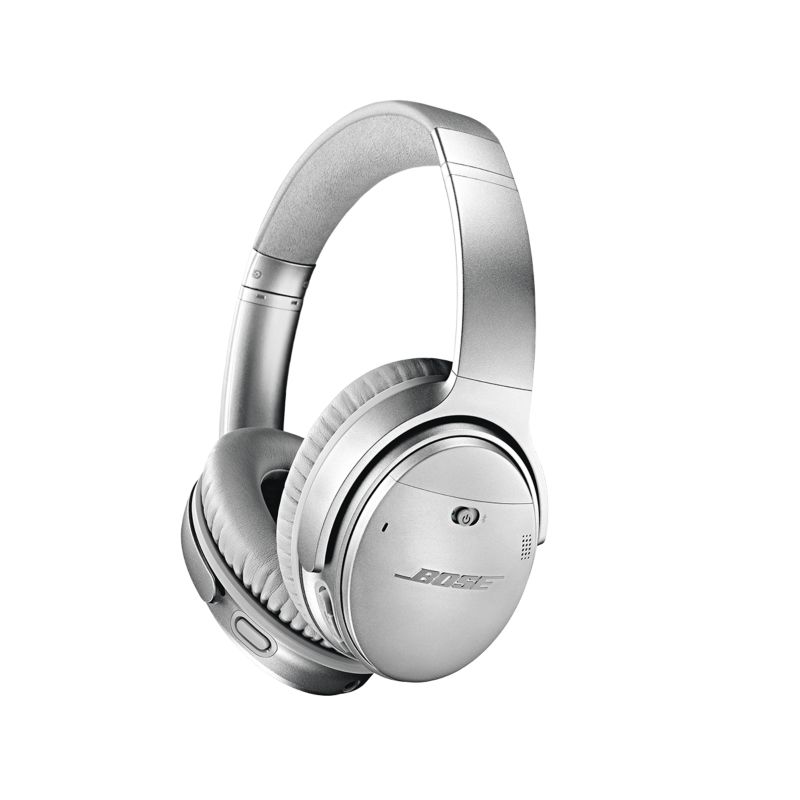 Apple users have Airpods to make their travel easier, and everyone else can enjoy the quiet power that comes with Bose noise canceling headphones. The QuietComfort 35 Wireless Headphones II come in three basic colors or you can customize them. At a smooth $350, you get Alexa and Google AI built in for your ease of use. The noise cancelation gets rid of the sound of other travelers while also boosting the sound of your music or audio books. To top it off, they also have Bose AR, which is a one of a kind augmented audio reality program you won't find anywhere else.
Ursa Major Face Wipes
When you travel your body goes through a unique blend of stress that often shows up on your skin. As nice as it would be to carry your whole cleansing routine with you, it's not possible. To help combat oily skin, environmental pollution, and plain old grim that comes from traveling a face wipe is essential. The Ursa Major Face Wipes are the perfect way to exfoliate, cleanse and soothe on the go. These handy bamboo face wipes are individually packaged and sold in packs of 20 for $24. Not only are they environmentally friendly, but they are also great for your skin.
Merino Travel Kit
For those looking for a more robust kit for their travels, the Merino Travel Kit is probably going to be right up your alley. At $169, this luxurious blanket and mask set is sure to make your travels restful and relaxing. The 38' x 52' blanket is crafted from ultra fine Merino wool and comes in a sleep-friendly ash color. The eye mask is also made from Merino wool and comes with a gentle elastic band that holds it in place. They both fit in the matching carrying case making them the perfect travel accessories.