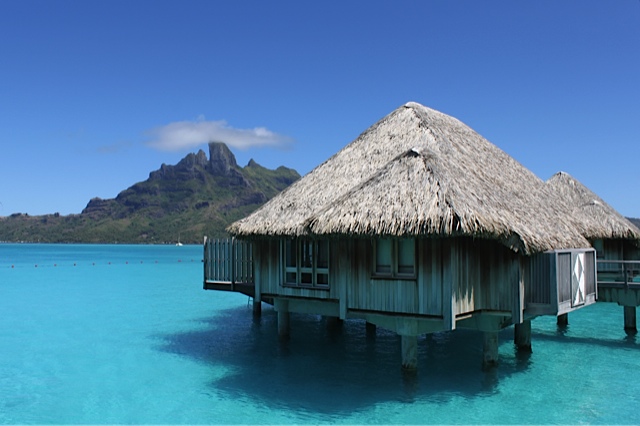 The St. Regis brand is well known around the world for their exquisite service. The St. Regis Bora Bora Resort, a Starwood category 7 hotel, is no exception. Set in the tropical paradise that is French Polynesia, it all begins with your arrival.

Upon arriving at the small, open-air Bora Bora Airport you will be met by a courteous and attentive greeter from St. Regis who will welcome you with a smile and conduct you to your boat transfer. From there you'll enjoy a mesmerizing boat ride across crystal blue waters to The St. Regis Bora Bora Resort. Along the way you will be awestruck by the scenery surrounding you; it's the only place in the world that looks better in person than on a postcard.
Overview and Amenities
As you arrive to the resort, you'll notice is the majestic view of Mount Otemanu rising into the sky. The St. Regis Bora Bora is an equally majestic resort, situated on 44 acres of lush greenery, a white sand beach, and peaceful lagoon. It is adorned with exotic woods, native fabrics, and regional artwork, which makes for an atmosphere of beauty, elegance, and relaxation. As you step off the boat the St Regis staff is awaiting your arrival with a refreshing glass of tropical juice. Check-in is in the form of a private tour of the entire property via a golf cart driven by your personal 'butler.' Once the tour is complete, your butler proceeds directly to your private villa or suite to explain all of the features within your accommodation.
The St. Regis Bora Bora offers 100 villas and suites, built over water or on the beach. Every villa and suite has its own majestic view. Some of the units include luxury amenities such as outdoor whirlpools and private swimming pools. For the ultimate in luxurious living, you might want to book a stay at the resort's 'Royal Estate.'
The Royal Estate includes two individual living rooms, a dining room with a terrace, a chef's kitchen, three bedrooms, a private hamam and whirlpool, and a private spa and treatment room. Outdoors there are three pavilions surrounding a gorgeous swimming pool and a private white sand beach where you can relax completely undisturbed. The entire suite is approximately 13,000 square feet of sumptuous, indulgent space.
If you aren't staying in the Royal Estate, with access to a private treatment room, your stay will be further enhanced by the resort's Spa Miri Miri, situated on its own private island. At the spa you'll be treated to traditional Pacific Rim and Tahitian treatments that will leave you relaxed and refreshed. In addition, its state-of-the-art gym facilities boast all of the latest in fitness technology and equipment. The resort also has a full size tennis court, complete with complimentary rackets and balls.
While you're relaxing in the spa your children will be well taken care of in the St. Regis Kids Club. Here they will enjoy a wide range of activities geared specifically to their age and interests. You'll be comfortable in knowing they are in the care of trained professionals who will keep them happy, healthy, and entertained.
The main pool is near the beach and has an attached bar, allowing guests to order drinks and snacks while sitting on underwater stools. If you're looking for a more private experience, the resort also offers a more secluded pool area that is geared toward adults. It has private cabana areas and full poolside butler service.
Dining Options
The St. Regis Bora Bora Resort offers a daily breakfast buffet. One of the highlights of the buffet is the many fresh squeezed juices, including orange, banana, guava, and pineapple, to name a few. The breakfast offerings are extensive, and what isn't readily available can be made to order.
For your dining pleasure later in the day, the St. Regis Bora Bora offers three different restaurant options. The Sushi Take Restaurant is Bora Bora's only Japanese sushi and sake restaurant featuring an onsite sushi chef. If you prefer local cuisine, the Te Pahu restaurant is a Mediterranean style experience, featuring all-day dining with an open kitchen and beachside tables. International cuisine and French Polynesia's finest gastronomic experience is found at the hallmark Lagoon Restaurant, by the famous Jean-Georges.
Services & Amenities
According to the St. Regis philosophy, a luxury resort is more than just wonderful accommodations. St. Regis takes service to the next level by offering guests much more than they experience elsewhere, starting with personalized butler service. The butler service may be called on demand for various needs, including complimentary golf cart pick-up as a mode of transportation to other areas within the property. Twice daily maid service, in-room dining, the kids club, babysitting service upon request, dry-cleaning and laundry, an art gallery, and several premier boutiques, including a Robert Wan Black Pearl Boutique, are all part of the standard services and amenities available. Every night during the turn-down service you can expect a new tin box of delicious, locally made cookies to be left on your bed.
The property is so large that in addition to the golf cart transportation service, there are also numerous bikes available to ride on the property. Speaking of transportation, if you want to visit the main island of Bora Bora, The St. Regis Bora Bora Resort offers two complimentary round-trip boat rides per day. In addition, if you make dinner reservations on the main island there is also a complimentary boat that will take you to the drop-off area for the restaurant shuttles; the boat brings you back to the resort from the main island at a scheduled time as well.
If you require access to the internet, the resort has three complimentary PC's within the library. If you want the ability to use the internet in the comfort of your own villa or suite, an in-room connection is available, but there is a daily rate.
Many of the staff members at The St. Regis Bora Bora learn the guests' names, habits, and preferences, making for a personalized experience for every guest. The concierge staff we worked with started planning adventures for us prior to our arrival, which allowed our special time at the resort to be focused on enjoying the activities instead of planning them.
Nightly rates at The St. Regis Bora Bora start at about $1,000/night and range up to $17,000/night for the Royal Estate.
The St. Regis Bora Bora Resort
Motu Ome'e BP 506
Bora Bora, 98730
Discover the whole trip to Bora Bora here: http://luxgetaway.com/tag/lux-destination-bora-bora/
[nggallery id=75]