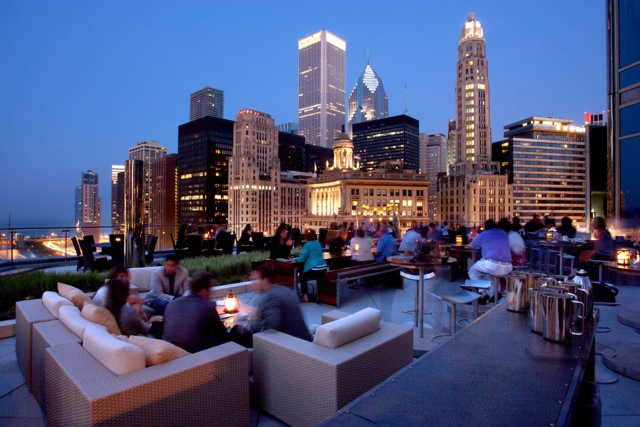 When the Trump Hotel Chicago opened in 2008, the goal was to create a landmark in Chicago; a landmark noted as much for its luxury as for its profile against the Chicago sky. Donald Trump and the Trump Hotel Collection have succeeded.

Trump Hotel Chicago is the only place to stay in the Windy City for the discriminating traveler unwilling to settle for anything but the absolute best. At 92 stories, the tower offers 486 luxury residential suites and 339 equally luxurious guest rooms. Each of the units boasts spectacular views of Lake Michigan, the Chicago River, or the city itself.
 Accommodation Choices
The hotel offers four levels of accommodations, beginning with the Deluxe Guestroom. The Deluxe room starts with 600 square feet of living space including 10-foot floor to ceiling windows. Rooms include dual king or queen beds with Italian Bellino linens, custom furnishings, writing desk, and a spacious seating area. Guests also enjoy a limestone finished bathroom complete with stone topped vanities, deep soaking tub, and separate shower with waterfall shower head. These bathrooms set themselves apart from other luxury hotels.
The next level of accommodation is the Spa Guest room, designed for guests wishing to combine luxury accommodations with a unique spa experience. Spa Guest rooms include direct access to the hotel spa, decor specifically designed to encourage relaxation, signature bath amenities, and more.
Trump Hotel Chicago offers Deluxe Suites and Grande Deluxe Swedes as their top tier accommodations. Both suite levels are intended to provide all of the comforts of home in the middle of a world-class city. Suites include fully equipped kitchens, separate bedrooms, large closets and master baths, custom-designed furnishings, fireplaces and more. Personalized services include 24-hour concierge and chauffeur service.
Services and Amenities
What sets the Trump Hotel Collection apart is its attention to the minute details of guest service. Nowhere is that seen more clearly than through the hotel's Trump Attaché™ service. This service takes personal attention to the next level by making sure each individual guest has every need met no matter how small or seemingly insignificant. The guest's personal Attaché keeps meticulous records of guest preferences so that upon his or her next visit, no request ever need be repeated.
To make your stay more comfortable, other guest amenities include personalized stationery and business cards, 24 hour in room dining, in-room chef (by appointment), complimentary Internet access, and full use of the hotel's spa, salon, and private health club.
Dining Options
Trump Hotel Chicago's theme of unparalleled luxury extends to the Sixteen restaurant. Named for its location on the 16th floor, the restaurant features 24-foot windows providing spectacular views of Lake Michigan, the river, and the clock tower at Wrigley Field. Guests can choose to dine on the outdoor terrace or bask in the luxury of the interior space.
For cocktails or a drink with friends, Trump Hotel Chicago offers Rebar. The bar and lounge combines comfort and sophistication with more incredible views on the hotel's mezzanine level. It is a great place to relax and unwind or meet business clients.
Trump Hotel Chicago makes it a point to lavish every guest with a full array of amenities and services worthy of bearing the Trump name. Best of all, the hotel is located in the heart of Chicago. Guests are just minutes from Lincoln Park and Millennium Park, Chicago's financial district, some of the best luxury shopping in North America, and Chicago's renowned museums and galleries.
Your stay at Trump Hotel Chicago is one you will remember for a lifetime. It is truly the luxury landmark Trump intended to be, and one worthy of bearing the Trump name.
Nightly rates start at around $300 per night.
LUX Tip: Check out the "Pillow Menu" which offers guests 12 different types of pillows available for delivery to your room.
Trump International Hotel & Tower Chicago
401 N Wabash Ave
Chicago, IL 60611
[nggallery id=116]