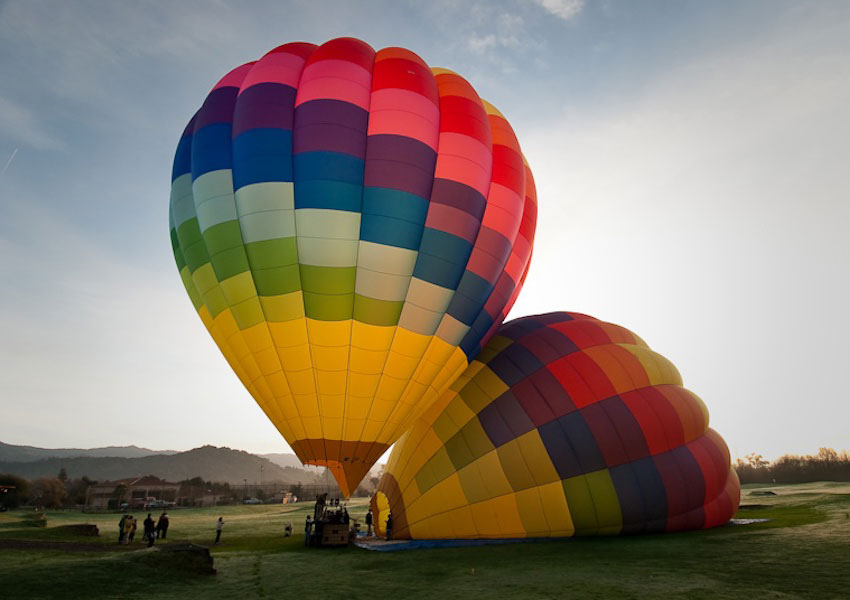 The Napa Valley region of north central California is most well known today as the seat of the California wine industry; a region producing wines that compete with the best from France and Italy. Because of that, the Napa Valley is a very attractive holiday destination for Europeans, Asians, and even Americans as well.
In addition to being America's wine country, the Napa Valley is stunningly beautiful with her rolling hills, fertile green fields, and awe-inspiring mountain peaks. And there's no better way to see the Napa Valley region than high in the sky with Napa Valley Balloons.

The Birds-Eye View
If the Napa Valley is awe-inspiring when viewed from the ground, imagine seeing it as the birds see it. Napa Valley Balloons has been providing the birds-eye view since 1980; that's more than 30 years of aerial tours provided by FAA-certified pilots with a combined safety record that's simply the best in the business. Moreover, Napa Valley Balloons boasts thousands of satisfied customers including celebrities like Chelsea Clinton and Peter Greenberg. The company has been featured on the Oprah Winfrey Show, the Food Channel, the Today Show, and more.
The Tour
Guests arrive to the Napa Valley Balloons centre in the pre-dawn hours, where they'll enjoy a light snack of coffee, tea, juice, fruits, and pastries. Each group is briefed by their pilot and then taken to the launch site as their balloon is being prepared. You will be amazed as the burners roar, the fans hum, and your colourful and impressive balloon comes to life. And as you board, you will be aided by a professional and fully trained staff dedicated to your safety and comfort.
Once in the air the sound of silence may be the most exhilarating sensation of all. It's one thing to fly on a jet but something completely different to float in silence. For the next hour your pilot and tour guide will show you all the best the Napa Valley has to offer. You'll have plenty of opportunities to take pictures and ask questions in an intimate setting of between two and 16 passengers.
At the conclusion of your pilot will return you'll be invited to join other guests at the post flight breakfast at Domaine Chandon's Etoile restaurant. It is the perfect way to cap off a spectacular tour and set the stage for the remainder of your day in the Napa Valley.
Rates are $220 per person. For more details, or to book a trip visit their website.