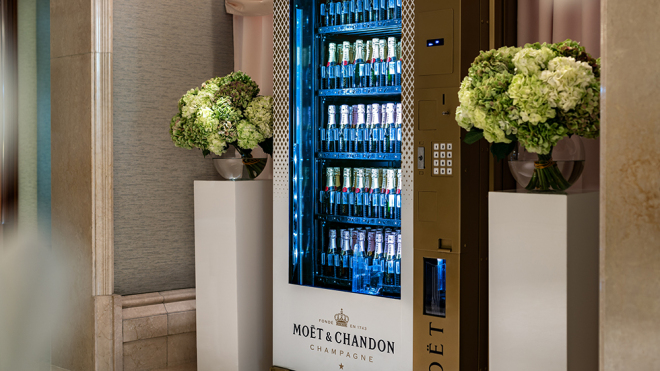 When you think of hotel vending machines, you probably think of hot coffee, chips or even the rare cold sandwich. These machines are usually next to the ice makers in most hotel hallways and even then, you tend to only find these in mid to lower end hotels that don't offer room service.
The Ritz Carlton in Naples Florida has made a point to change the game of vending machines forever. The new luxury splurge for those with disposable incomes comes in the form of a 1,000-pounds vending machine rimmed in gold and set to dispense none other than Moët & Chandon champagne.

This Ritz location was closed shortly after Hurricane Irma in 2017 and after massive renovations, management decided to reopen and welcome guest back the luxury hotel in a unique style. As long as you have an ID showing that you are of legal drinking age, you can purchase the special $25 tokens that allow you to purchase 200 ML Imperial Brut and Imperial Rosé vintages chilled to a perfect 30 degrees anytime you like during your stay.
The opulent machine is located from and center in the main lobby which adds to the feeling of luxury excess that comes with an over the top stay at The Ritz. Though these Champagne dispensers have been around since 2013, they were mostly only seen un UK in higher-end department stores during the holidays.
The vending machine was such a novel hit, there are rumors that the famous Kardashian Momager received one as a house warming gift from Chrissy Teigen! It makes sense for this high-end amenity to be found in the playgrounds of the wealthy, and judging by the warm reception it has received, it is most likely you will find them popping up more often.
For more information about The Ritz Carlton Naples visit their website.