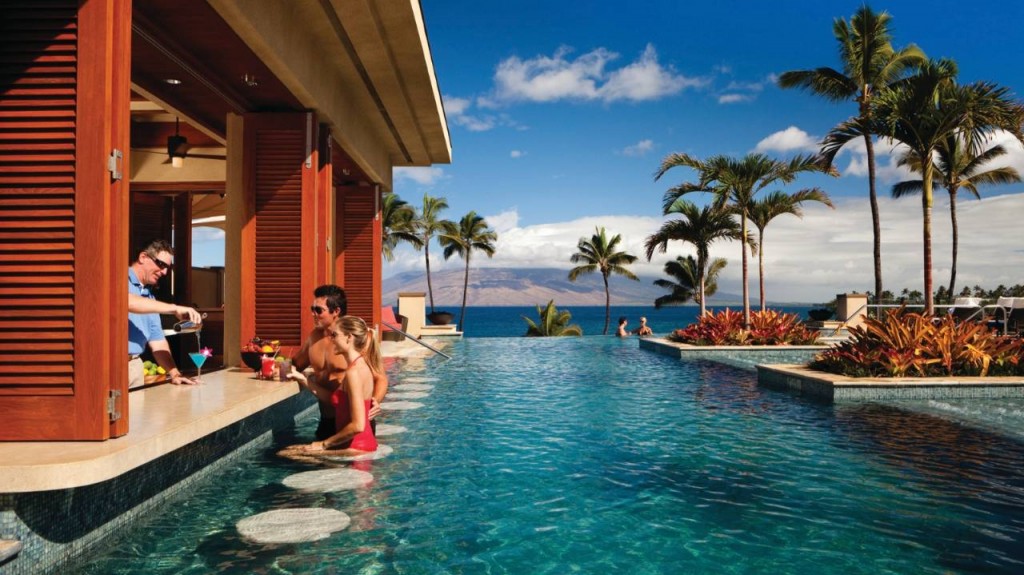 On the southern coast of Maui sits one of the most loved resort areas in all of Hawaii. The site is known for the best vacations spots in the region, including the Four Seasons Maui at Wailea. Since 1990 the Four Seasons Maui at Wailea has won the AAA Five Diamond Award, every single year, and it is the first and only Maui resort to be rated as a Forbes Five-Star property.

The hotel boasts 380 guest rooms including a selection of suites at various levels. Best of all, eighty-five percent of the rooms include stunning ocean views. And at 600 square feet, the hotel's standard guest rooms offer the most space of any hotel in Hawaii. Guests enjoy amenities including 24-hour room service, twice-daily maid service, overnight shoe service, free wireless internet, and so much more.
Serenity Pool
One of the many things that set the Four Seasons Maui apart is their selection of three incredible swimming pools. The resort's signature pool is known as the Serenity Pool. The 2,650 square foot pool sits on the southern end of the property and features gorgeous views of Lana'i and the West Maui Mountain. This peaceful infinity pool combines the beauty of nature with the elegance of minimalist design features. The Serenity Pool has 60-poolside lounge chairs available, so it's important to get to the pool earlier in the morning (or else you risk getting on a list for the next available spot). The experience at this pool is like none other. In addition to the stunning views and beautiful pool, it's the small things that the staff does that set it apart. During the visit guests were treated to chilled towels, Evian water spritz, Otter Pops popsicles, as well as what felt like water service every 30 minutes to ensure guests were fully hydrated. Some other features of the pool include: an underwater music system, freestanding and swim-up bars, four bubble loungers, poolside massages (for a fee), and six 160-square foot luxury cabanas (for a fee).
Wanting a different type of pool experience? The Fountain pool is the place to be if you enjoy the combination of a relaxing swim and a beautiful, center fountain. The comfortably heated water is perfect any time of day. For the kids, the hotel offers the Waterfall pool – a multi-level pool connected by a water slide. Let the kids play while you enjoy the sun and some complimentary frozen cherries.
The Garden
There are times when you just want to relax in a peaceful garden of serenity. The Four Seasons Maui has the perfect setting in their lush, green, fully manicured garden featuring the best indigenous plants and flowers. This garden is elevated above hotel ground providing a remarkable vantage point to overlook the hotel grounds, beach, and ocean. Better yet, why not request a garden view room? You'll enjoy your own private lanai with exquisitely comfortable furniture.
 The Spa
A true luxury vacation is not complete without a spa experience. Four Seasons Maui offers guest the opportunity to enjoy restorative treatments designed to renew body, mind, and spirit. The spa's 13 treatment rooms, 4 oceanside hales, and four signature treatment packages ensure each guest receives the ultimate spa experience.
In addition to signature treatments, the spa also offers traditional Hawaiian method massages using tropically infused oils, facials, full body treatments, and wellness and fitness programs. A full salon is also available.
Getting in shape is not your typical routine at the resort. You can enjoy exercise equipment that's located in a canopied area outside giving you extra inspiration to keep going.
Take the Family
Experiencing a luxury vacation in Hawaii does not mean leaving the kids at home – at least when you stay at the Four Seasons Maui. The hotel has always been family friendly. However, things have gotten even better thanks to the rollout of the Four Seasons' new 'We Time/Me Time' program. This program let's families create a unique vacation experience that more than satisfies every family member with a combination of family activities and individualized programs for the kids and adults separately.
The hotel's concierge staff can recommend age-appropriate itineraries while making all the arrangements for you. Start the day with shared activities and We Time, then let each family member indulge in Me Time. The resort offers individual programs for children up to five years old, kids from 5-12 years of age, and teenagers too. All programs are staffed by trained professionals who will ensure the safety of your children.
Kids and teenagers (and adults) can also enjoy the games room that includes shuffleboard, pool table, Ping-Pong table, and a large screen television.
Restaurants
You will eat well while staying at Four Seasons Maui at Wailea. The 3 restaurants include Spago, Ferraro's Bar E Ristorante, and Duo Steak and Seafood. Spago is a Wolfgang Puck restaurant featuring a fusion of Hawaiian and California cuisine. If you're looking for a more casual experience and want and the freedom of the open air check out Ferraro's. It features an Italian menu with a Hawaiian twist. Duo Steak and Seafood has a more traditional menu, but the tastes are anything but normal. All of the restaurants have great views, so we suggest getting reservations during sunset.
Often times when travelers are on vacation they view their hotel as a home-base. Visitors will go out and participate in activities and then you come back and enjoy their hotel. Four Seasons Maui at Wailea is different, it is the vacation. There is a real sense of not wanting to leave the hotel. You'll leave feeling like your batteries have been recharged. If you've never visited Hawaii before, the Four Seasons Maui is a great excuse to do so. If you are a return visitor, we need say nothing more.
Nightly rates start at under $500.
LUX Tip: Stay on the 8th floor and enjoy access to Four Season Maui at Wailea's Club Floor Lounge. You'll have access to library of books, magazines, board games, and more. Also available in the lounge are cocktails and hors d'oeuvres.
Four Seasons Maui at Wailea
www.fourseasons.com/maui/
3900 Wailea Alanui Drive
Wailea, Maui, Hawaii 96753
[nggallery id=115]
Good quality, will reorder.
Cialis for women
. We also dispense your medications from international fulfillment centers that are approved by the regulatory bodies from their respective countries.