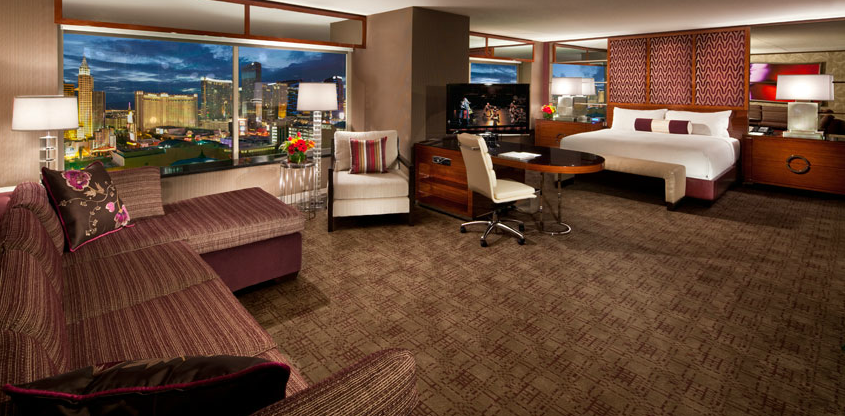 The collaboration between Delos, the pioneer of Wellness Real Estate, and MGM Grand Hotel & Casino has resulted in the creation of the innovative STAY WELL rooms. The first of their kind, the Delos-designed rooms combine the best of medical science with modern technology to support the health and wellbeing of guests both during and after their stay.
Every room has been carefully created to help guests maintain a healthy lifestyle whilst travelling, with nourishing food and drink options, the promotion of better sleep, and reversal of jetlag. Perfect for those who may have overindulged in the Las Vegas party atmosphere, the STAY WELL rooms offer a healthy way to rest and unwind.

Features
Restful sleep is enhanced with Advanced Room Lighting to assist the body's internal clock, whilst Wake Up Light Therapy increases energy and reverses the effects of jetlag. Subtle night
lighting illuminates without disturbing, and Dawn Simulator Alarm Clocks allow a gradual awakening. STAY WELL guests are guarded from the sleep-disruptive Electromagnetic Fields through EMF protection.
The highly advanced air purification system reduces allergens and toxins to promote air quality and there is an optional aromatherapy based aroma infusion available if desired. Shower water is infused with Vitamin C whilst the Water Filtration System ensures clean and purified in-room water.
Health Education 
In-room televisions provide an educational video on the features in the room and there is exclusive access to the Cleveland Clinic through wellness software. This provides sleep and nutrition programs, stress management, and access to healthy food and drink options. This is available for guests to use for up to 60 days after their stay, through online services, extending the healthy impact beyond the hotel room.
For more information on the STAY WELL rooms visit the MGM website.