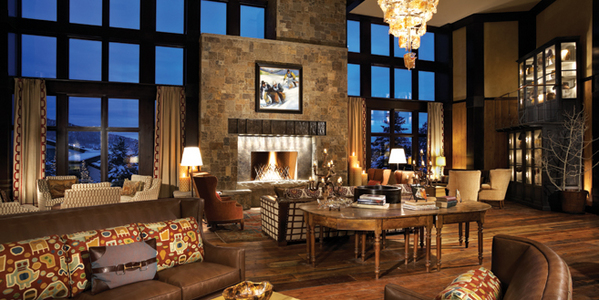 If you're looking for a resort in Steamboat Springs with small town charm and big time hospitality, One Steamboat Place is your place to call home. This resort is located in the heart of Steamboat Springs, Colorado, at the foot of Mt. Werner. Located steps from the gondola, you have immediate access to the ski slopes during the winter season. During the spring and summer you have access to golf at a nearby course designed by 16-time PGA winner, Tom Weiskopf.

The property exudes the Steamboat Springs lifestyle with contemporary mountain-lodge finishes. Inside each residence, reclaimed timber, weathered metals, unique art, and design adorned throw pillows combine to create a rich and colorful ode to the Old West. The centerpiece of the entire resort is The Gathering Room. The room has a breathtaking chandelier, fireplace, and floor to ceiling windows. Employees at One Steamboat Place are tastefully dressed in denim, giving the resort an authentic western feel that fits with their friendly and accommodating attitude.
Investment Opportunities
One Steamboat Place is a luxury residential development, with 80 units offering full or part ownership to interested individuals. Full ownership investments are listed at $3.05 million and $3.15 million for 2,500 and 3,500 sq. ft. options, respectively. Those interested in partial ownership can choose an 1/8 share or a 1/12 share.
The 1/8 share can be had at a cost of $580,000 for a 4-bedroom unit. The 1/12 share includes a 3-bedroom unit at a cost of $350,000. In addition to the physical residence, owners are also getting access to a private 530-acre lake, as well as membership in The Outfitter's Center and Catamount Ranch and Club. The resort is also offering a limited number of people who aren't residential owners membership into The Summit Club at One Steamboat Place. This membership allows access to the luxury services, amenities, and facilities typically only enjoyed by owners. The membership fee is $65,000.
Ownership Benefits
The resort is ski-in ski-out and offers convenient ski valet. The ski locker room is one of the nicest in the country. It is the little things that are impressive, such as the available chapstick, sunblock, and mountain maps. While world-class skiing tends to be the biggest draw to Steamboat Springs, the warm weather months have plenty to offer as well. One Steamboat Place residents can enjoy a plethora of outdoor activities including kayaking, horseback riding, fly-fishing, mountaineering, hiking, bike riding, and more. This small town is a nature lover's paradise, complete with fresh mountain air and views that are absolutely stunning.
As a part of Timbers Resorts, owners can swap their planned vacation days for credits that will allow a stay of equal length at any one of the other properties in the Timbers Resorts collection. This allows for a great opportunity to see some of the other wonderful destinations serviced by Timbers Resorts, all centered around skiing, golf, and other outdoor recreational activities.
Imagine a relaxing day on the slopes followed by cocktails, your very own chef serving dinner in your home, and an evening spent in the heated pool or Jacuzzi. All this, and more, is available when you become an owner at One Steamboat Place.
The Truffle Pig Restaurant
One of the hottest new restaurants in all of Steamboat Springs is Truffle Pig. The restaurant is conveniently located in the same complex as the One Steamboat Place resort. The menu is always kept up to date with the freshest in-season foods, including free-range game, meats, and seafood. However, just as you may expect from the name, their truffle items on the menu are their most popular and available year around.
The Truffle Pig offers all meals throughout the day. Breakfast items can be had within their market. Lunch and dinner are served in their stylish, intimate, yet rustic dining room. If you're just getting off the mountain after a big day of skiing, the restaurant also offers an Après Ski Menu from 2:00 PM – 5:30 PM.
One Steamboat Place
http://www.onesteamboatplace.com/
2250 Après Ski Way
Steamboat Springs, CO
80487
LUX Tip: If you stay at One Steamboat Place, check out their daily après-ski, right beside The Gathering Room, with complimentary food and drink. We highly recommend the hot chocolate with marshmallows. It's the perfect indulgence after a long day on the mountain.
[nggallery id=90]