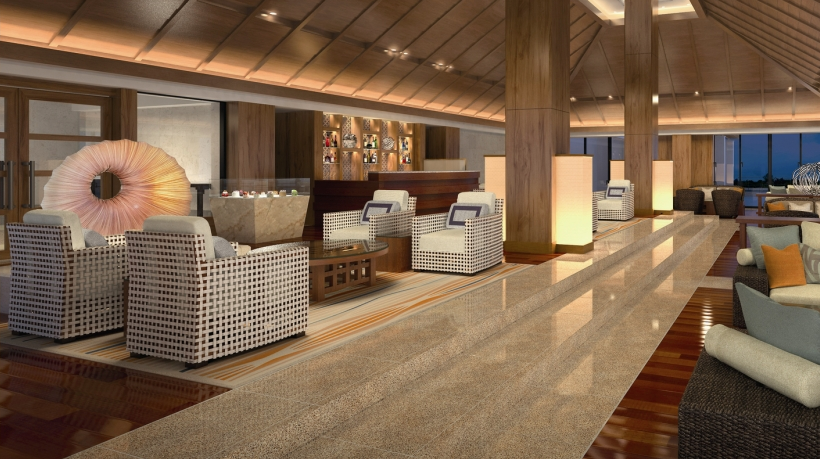 Luxury travelers to J

apan now have a new option in a largely unexplored area of the country thanks to The Ritz-Carlton Hotel Company's announcement of their first luxury property on the island of Okinawa. The company chose Okinawa because of its beautiful scenery, peaceful setting, and relatively unspoiled environment. It is a part of Japan which many people know about but few, other than native Japanese visitors, have explored.
The Ritz Carlton Okinawa embraces the Japanese philosophy of hospitality known as "gusuku;" a philosophy which presents the hotel as a luxury guest house where visitors are made to feel welcome and at peace. From most of the hotel's rooms the balconies look out on the beautiful East China Sea or the Kise Country Club. The beauty of those views extends all over the island where visitors enjoy lush gardens, meticulously groomed landscaping, pristine waters, and some of the finest golf courses in Japan.
The design of the hotel incorporates a contemporary look and feel with traditional Japanese elements such as red clay roofs, peaceful reflecting ponds, and influences from the famous Shurijo castle. The properties 97 guest rooms and two suites feature a very modern look infused with the island's natural surroundings and awe-inspiring scenery. From the artwork to the furnishings, the design of the true is intended to be a perfect balance of harmony among many elements.
For your ultimate pleasure the hotel offers a traditional oriental spa experience just steps away from the hotel's main building. The Ritz-Carlton Spa by ESPA includes eight treatment rooms, outdoor cabanas, two private suites, and an indoor pool and fitness centre. Traditional Chinese, Indian, and European treatments offer guests the utmost in relaxation and well-being in an atmosphere that makes one believe he is experiencing the closest thing to heaven on earth.
The Ritz-Carlton, Okinawa
http://www.ritzcarlton.com/en/Properties/Okinawa/Default.htm
1343-1 Kise, Nago, Okinawa 905-0026 Japan
[nggallery id=96]