When planning your dream vacation to Bora Bora, the beautiful beaches and dreamy resorts can sometimes make you forget about looking into the delicious restaurants on the island.
Here is a collection of what we thought were the best restaurants on the island of Bora Bora.

Bon Appétit!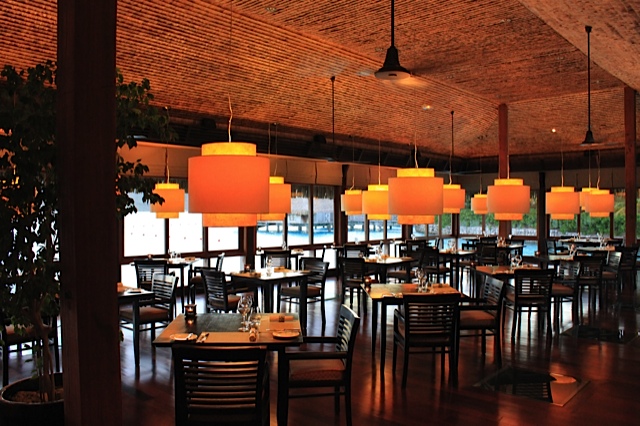 Lagoon Restaurant by Jean-Georges at the St. Regis Hotel
The St. Regis name is one of the most respected in all the travel industry. When you stay at one of their hotels you expect the finest in everything, including dining. You will not be disappointed at St. Regis Bora Bora, thanks to their exclusive Lagoon Restaurant by Jean-Georges, one of 17 restaurants operated by the world-famous chef. The Lagoon is aptly named due to the fact that it's perched out over the water on a platform suspended over wooden stilts driven deep into the soil below. Outside its floor-to-ceiling windows is the incredibly lush and beautiful Mount Otemanu, as much a feast for the eyes as the Lagoon's menu is for the palate.
That menu is highlighted by an attention to chef Vongerichten's Thai-French style. Very few other chefs in the world attempt such a combination that includes things like a spiced chicken dish, accented with a unique caramel-coconut sauce; or perhaps shrimp wrapped in bacon and served with avocado. Former New York chef, Romuald Feger, heads up the staff at the Lagoon, but Vongerichten pays a visit every couple of months to check on things and introduce new menu items.

http://www.stregisborabora.com/lagoon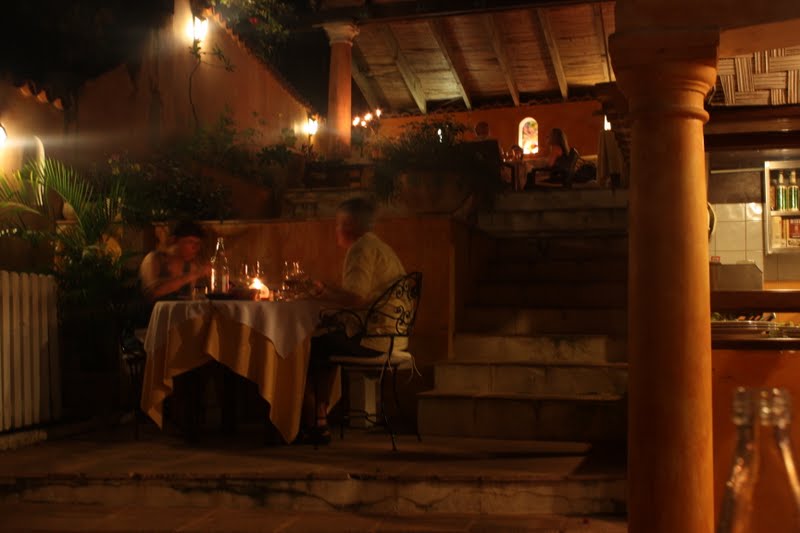 La Villa Mahana
If exclusivity is what excites your senses, you can't get more exclusive than the 6-table La Villa Mahana restaurant. This place is so difficult to get into that you'll have to make reservations at least one month in advance. Even at that, it can be difficult to get a table during the peak travel season. With that said, it is worth the wait to experience the culinary delights of Corsica's Damien Rinaldi Dovio. Mr. Dovio is the owner and chef whose penchant for intimate dining is matched only by the frequency with which he changes his menu. A dinner at La Villa Mahana is unlike anything else you'll experience in Bora Bora.
The restaurant's menu typically features a wonderful blend of French and Asian flavors. Chef Dovio serves dishes ranging from mahi-mahi to filet mignon, all with his unique flair and unusual flavor combinations. If you're the type of person who loves intricate and complex flavors, La Villa Mahana is for you. To go along with the great food, you'll enjoy a stylish and sophisticated décor centering on the artwork of Garrick Yrondi. La Villa Mahana combines the best elements of Polynesia, France, and the Mediterranean into a single, delightful package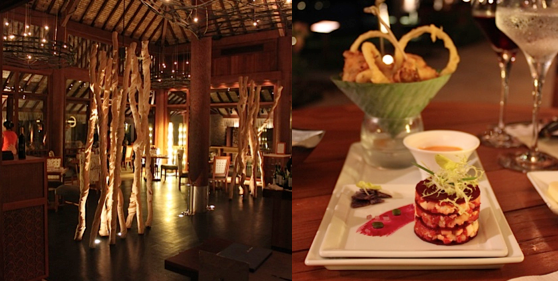 The Arii Moana at Four Seasons
Polynesian and French cuisine fills out a temptingly exquisite menu at the Arii Moana at Four Seasons. You'll be amazed at the culinary delights that await you with fresh seafood, an extraordinary wine list, and decadent desserts. Their lobster and shrimp risotto is some of the best you'll find anywhere, pairs perfectly with a distinguished wine, and is completed by a chocolate volcano cake. An explosion of flavors awaits you in a casual dining experience with seating for 56 indoors and an additional 40 outside.
In addition to the great food, Arii Moana offers a relaxed and comfortable atmosphere that epitomizes romance. In the distance you'll see Mount Otemanu rising up from the edge of the horizon. Still closer is a peaceful and tranquil lagoon with crystal-clear waters. At Arii Moana you'll experience world-class dining and the most subtle and sophisticated environment perfectly suited to your stay at the Four Seasons. It is the perfect way to end a perfect day in paradise.
http://www.fourseasons.com/borabora/dining/arii_moana/


Bloody Mary's
What do you get when you cross an American restaurateur with beautiful French Polynesian surroundings? You get Bloody Mary's, a rustic barbecue pit and steakhouse owned by a man with an equally rustic name, Dexter Hewitt. The first thing you'll notice upon entering is the floor made of nothing but fine white sand. Next, you'll undoubtedly notice the butcher-block tables, palm tree stools, bamboo stalks, and tasteful collection of colored lights and ceiling fans. Most of all, you'll notice the attentive and professional staff which is highly motivated to serve you; Mr. Hewitt shares his profits with his workers, and they are well trained.
For lunch, Bloody Mary's features typical American food, including burgers and salads, as well as the old UK standby, fish and chips. When it's time for dinner, the lunch menu is rolled away in favor of grilled steak and fish. If you like American-style barbecue, you'll enjoy Bloody Mary's as a welcome relief from the predominantly French-style dining on Bora Bora. As for the restaurant's bar, it is a piece of art wonderfully crafted using a native lychee tree. The bar is open all day, offering a variety of wines, beers, and mixed drinks.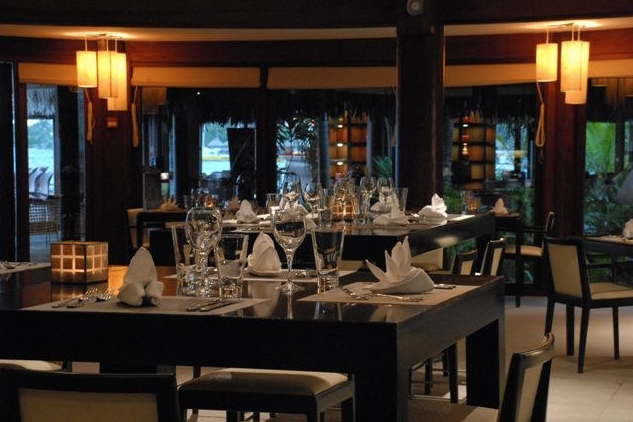 La Suite at the Sofitel Hotel
La Suite is one of the newest restaurants in Bora Bora, having just been opened in 2011. It is owned and operated by classically trained pastry chef Nicolas Falcoz, a native of the French Alps, who began cooking with his grandmother at a very young age. Mr. Falcoz has been a Bora Bora mainstay since his arrival in 2000, having worked at the legendary Hotel Bora Bora before opening his own beachside restaurant in 2006. As for La Suite, the new challenge it presents was immediately fruitful, becoming the dining destination of choice within just a few weeks of its opening.
La Suite offers a beachside setting on a private island that is owned exclusively by the hotel. The restaurant's menu is an interesting blend of native and French influences, combining some unusual pairings of texture and flavor. It's been called by some critics French savoir-faire because of the ease by which Falcoz has adapted to local and regional ingredients. The chic and trendy atmosphere only adds to the total experience, which is unique by any stretch of the imagination. If you like modern elegance combined with interesting food, you definitely need to book a reservation at La Suite.
http://www.restaurantlasuitebora.com/
La Bounty
Italian and French cuisines are what you'll find at La Bounty, a restaurant so casual you might even encounter the owner's cat wandering the grounds. La Bounty is known for its authentic Italian pizza, which can be enjoyed as a meal or just an appetizer. Other Italian offerings include tagliatelle, spaghetti, and a variety of other pastas, with a wide selection of sauces. You'll enjoy traditional Alfredo and Neapolitan sauces, along with seafood, blue cheese, and carbonara. The French portion of the restaurant's menu includes a variety of steaks and fish. As with most French recipes, rich and flavorful sauces abound.
La Bounty's casual atmosphere and easy menu make it the perfect venue for families vacationing on Bora Bora. The restaurant even offers a delicious dessert menu, complete with ice cream sundaes. The atmosphere is delightful, the menu varied enough to satisfy any taste, and the prices are very reasonable for the island.