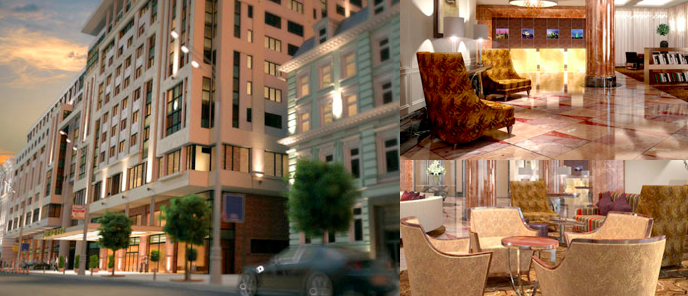 Tverskaya is perhaps the most famous street in all of Moscow. But it also happens to be home of the brand-new InterContinental Moscow Tverskaya Hotel. After a 10 year absence from Russia, InterContinental Hotels Group makes its return with a luxury property designed to give business and leisure travellers and experience which incorporates all Russia is. Just minutes from Red Square and the Kremlin, the hotel projects an image of classic Russian design combined with a new embrace of contemporary influences.

InterContinental Moscow Tverskaya offers a total of 203 rooms including 16 junior and senior suites. There are also three penthouse suites where luxury meets culture in one of Russia's most important forms of art: ballet. Each of the suites honours one of that country's most famous dancers — Isadora Duncan, Vaslav Nijinsky, and Galina Ulanova. In all of the rooms guests will be treated to traditional Russian tastes perfectly accented with cog-shaped reading tables. The design is stylish and sophisticated yet purposely reflective of the city's industrial heart.
Although the hotel is now open for business it is not yet complete. A luxury spa is slated to open during the first quarter of 2012 along with the hotel's gym facilities. For banqueting and meeting purposes there are 10 meeting rooms with a total of 600 square meters. The main ballroom provides for weddings, corporate events, and private dining, while the normal dining needs of guests are provided through the main restaurant featuring traditional Russian and European cuisines.
Rates start at over $400 per night.
Intercontinental Moscow Tverskaya
Tverskaya Ulitsa 22
Moscow, 125009
Russia