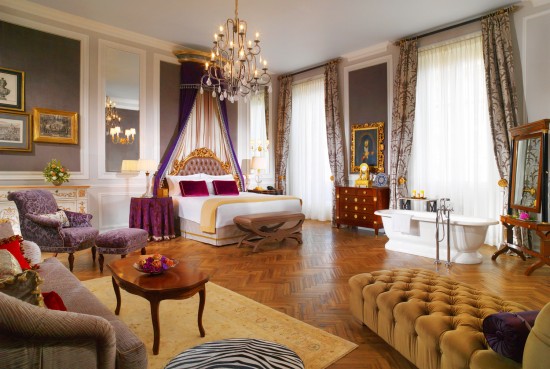 The beautiful city of Florence recaptures a bit of former glory in the Starwood Hotels & Resorts restoration of one of its most historic and grand buildings. Starwood has just completed a 10-month renovation of the former Grand Hotel Florence, which they previously operated under their The Luxury Collection brand. With the renovation complete the new property is now known as the St. Regis Florence.

The St. Regis Florence occupies what was once the first luxury hotel in the city designed in 1432 by architect Filippo Brunelleschi. Starwood has returned the building to its former glory careful to preserve both the heritage and historical significance of the structure. The renovation is part of a $100 million effort by Starwood to renovate their most desirable properties across Europe, the Middle East, and Africa.
The St. Regis Florence is a truly Italian hotel featuring 81 rooms, 19 suites, and a special designer suite from Bottega Veneta. All guest rooms feature luxury appointments, custom furniture, gloriously beautiful paintings, frescoes, and chandeliers, and unique names of noted Italian artists and nobility. Furthermore, each room is decorated with sophistication and elegance, in one of three color themes: Florentine, Medici, and Renaissance. As for the property's public spaces, guests will appreciate fine antiques and handmade engravings scattered throughout the hotel.
For the ultimate in relaxation Starwood has included Europe's first IridiumSM Spa with three luxury treatment suites featuring Florentine marble, beautiful custom mosaics, walls incorporating gold and silver, and Jacuzzi tubs.
The St. Regis Florence is located in the heart of the city and includes what may very well be one of the most acclaimed restaurants and lounges. Etichetta Pinchiorri combines a sophisticated cuisine with a very impressive wine list, all in the space reminiscent of early 19th century Italy.
Nightly rates start at just over $300 depending on the season.
The St. Regis Florence
Piazza Ognissanti 1
Firenze, 50123, Italy
Phone: (39)(055) 27161