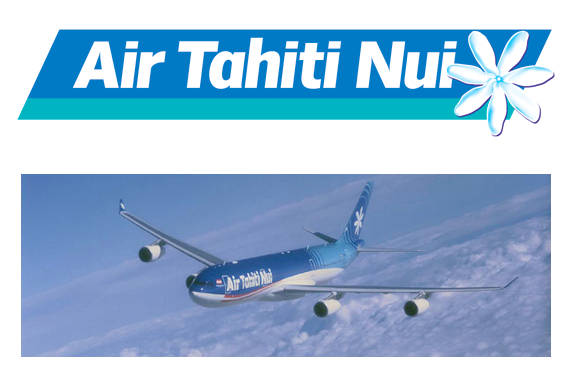 If you plan to visit the French Polynesian Islands, and Bora Bora in particular, your options to travel from the United States are fairly limited. Within the continental United States the only flights available are on Air Tahiti Nui, and they depart from Los Angeles. The flights depart from Los Angeles International Airport (LAX) and arrive in Papeete, Tahiti, Faa'a's International airport (PPT).

The opportunity to visit one of the most beautiful places in the world doesn't necessarily come cheap. A round-trip ticket starts at $965 during low travels seasons and $1,161 during peak seasons.
The flight to Tahiti is just over 8 hours, and onboard you will find that Air Tahiti Nui is not your run-of-the-mill airline. Air Tahiti Nui is a real treat. The first thing you'll notice when you board is the well maintained, clean interiors. Pillows and blankets are provided on your seat as your arrive. Also provided is a package of goods to ensure you have a comfortable flight, including an eye mask, socks, stickers to indicate if you do or don't want to be distributed while you're sleeping, if they are serving food, ear plugs, and more. When boarding the plane they even play traditional Tahitian music to set the mood.
Once airborne the flight attendants come around and offer each passenger a flower that's supposed to be worn behind your ear, which is a Tahitian tradition. Make sure to put it behind your correct ear, as it can it can mean a lot more than you might assume:
Worn behind your right ear: it means you are single, available
Worn behind your left ear: you are married, engaged or otherwise taken
Worn behind both ears: you are married but still available
Worn backward behind your ear: you are available immediately
Within 30 minutes of being airborne the first meal is served. A menu is provided at your seat before the food is delivered to provide you with a listing of meal choices for the entire flight. For our flight that left in the evening, we were offered the following:
MENU
HOT MEAL
Appetizer
Fresh seasonal salad with bell peppers, corn and black olives

Choice of Main Course
Chicken Provencal with parsley mashed potatoes, green beans and carrots, cheese & chocolate banana cake
Sautéed Pollack with an Asian-style sauce, fried rice and sugar snap peas, cheese & chocolate banana cake
COLD LIGHT MEAL
Appetizer
Salmon with potato salad
Main course
Chicken with Swiss cheese sandwich & Rice pudding
After dinner it's a choice of sleeping or entertainment to pass the time. Every seat onboard has an entertainment system, which includes access to movies, games, flight information, and more, on a personal video screen mounted behind the headrest of the seat in front of you.
The service onboard Air Tahiti Nui is top notch. The flight attendants were very polite and treated every guest as if they were honored to have them onboard. The flight attendants' outfits, some of which changed 3 times over the course of the flight, were an attractive blue and turquoise combination.
The flight experience overall was very pleasant and ended with the staff handing out French soft-chew candies. Flying on Air Tahiti Nui in economy class is a reminder of how flying used to feel – carefree, adventurous, and relaxing. It was the perfect way to embark on our tropical escape to one of the most beautiful places in the world.
Flying from Tahiti to Bora Bora
Once you have entered into the French Polynesian islands, by way of Papeete you are less than an hour away by plane to Bora Bora. Air Tahiti, which is a separate national airline, services the majority of the 'island hopping' flights to the many French Polynesian islands.
If you have a layover, keep in mind that Papeete's Faa'a International airport is fairly small, and the few shops it has are only open during limited hours. Be prepared with your own means of entertainment, you'll need it.
The flight from Faa'a International airport (PPT) to Bora Bora Airport (BOB) is about 45 minutes and departs several times a day. The plane they use for this route is small, so the flights book up at popular timeslots fairly quickly – book early to ensure you get the connecting flight you want.
Seating onboard Air Tahiti is not assigned, so boarding happens rapidly. Make sure to board early so that you can ensure a seat next to whomever you're traveling with. One of the best things about the flight was the complimentary pineapple juice that is served. The flight is so quick that once you've taken off, it's practically already time for the decent.
The Bora Bora Airport is one of the smallest we've seen, but the excitement of its visitors makes up for its size. Boats for every Bora Bora hotel or resort await only a few steps out the door and welcome leis are given to arriving guests. The island hospitality of a trip to French Polynesia starts onboard Air Tahiti Nui in LAX and continues from there the whole trip through!
Discover the whole trip to Bora Bora here: http://luxgetaway.com/tag/lux-destination-bora-bora/