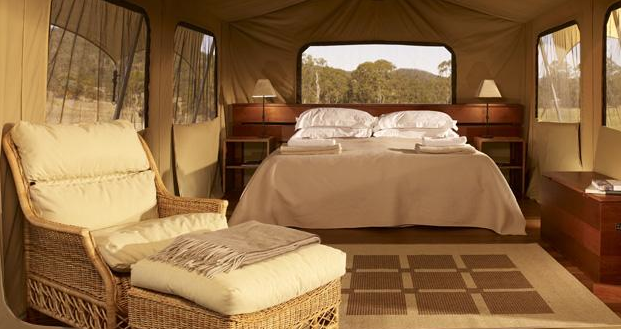 Spicers Canopy offers unique luxurious safari-style camping for up to 20, family members, social or corporate groups. It is located just a few minutes away from Spicers Peak Lodge, Spicers Canopy's sister property, that is used for conferences and special dinners by guests of Spicers Canopy. The Canopy lies on Spicers Peak Station within the World Heritage Listed Main Range National Park in Australia. It is on top of a green hill with eye-catching views of Mount Mitchell, Spicers Peak, and Mount Cordeaux.

Australia's unique plant and animal life is an important part of Spicers Canopy as it is very close to the 8,000 acre
s of Australia's private nature refuge. The atmosphere at Spicers Canopy is pure and beautiful. The skies are so clear at night you can even see satellites tracking past stars.
Spicers Canopy offers a five star luxury camping, with 10 luxury tents enough for up to 20 guests. Each tent has a king sized bed, comfortable pillows, fluffy towels, armchairs, floorboards and bedside tables with lamps. The dining area has a beautiful stone fireplace and polished floors. Bathrooms are clean and have solar-heated water.
The unique cuisine of Spicers Canopy is catered by the restaurant at Spicers Peak Lodge. Healthy and delicious food is served for breakfast, lunch and dinner. Food options include simple gourmet food, packed lunches for guests who go exploring the nature nearby and a three-course dinner including Gourmet Australian BBQ.
Spicers Canopy is award-winning and recently received advanced Eco Tourism Accreditation from Eco tourism Australia.
For up
to 10 people rates are $3,800 a night, or $380/night per person.
[nggallery id=17] clomid effects on males