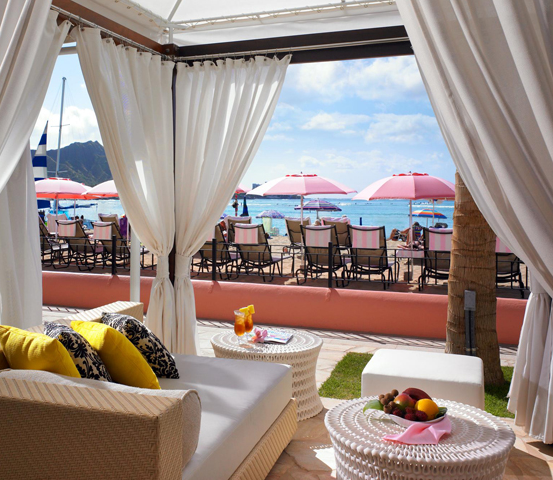 Royal Hawaiian Resort, known as the "Pink Palace of the Pacific, was built in 1927. It cost $4 million to build the six-story Honolulu building that had 400 rooms. The Royal Hawaiian Hotel became a favorite of world's most influential statesmen and early Hollywood Stars. In June 2008 the hotel was closed for a complete renovation and was reopened on January 20, 2009 as a member of the Luxury Collection division of Starwood Hotels & Resorts.

Currently the Royal Resort has 529 rooms including 34 suites of which 18 are oceanfront. The Royal Hawaiian is located at the apex of Waikiki's arc, which is a great opportunity for the beach lover guests. Royal Hawaiian
offers parasailing, catamaran cruises, surfing and snorkeling. Beach boys services are also offered at the resort. You'll find a variety of shopping, restaurants, and cultural events just steps away from the beach.
The romantic Pink Palace of the Pacific is a great place to celebrate weddings. Wedding specialists are available to plan the perfect event. The Regency Ballroom is perfect for 50 to 220 friends and family members. Coconut Grove is a romantic garden perfect for wedding ceremonies. Unique suites are also available for intimate ceremonies.
The Royal Hawaiian takes meetings and events seriously. An indoor 12,000 square feet room is designed for all types of meeting facilities. A 66,000 square feet space is available outdoor for special meetings and events.
Activities offered at the luxury hotel are great fun and an experience to remember a lifetime for children and adults. The activities include hiking, water sports, shows and entertainment, sightseeing, shopping, golf, and dolphin connection.
Rates at Royal Hawaiian Resort start at $250 per night.
2259 Kalakaua Avenue
Honolulu, HI 96815
808-923-7311
[nggallery id=10]