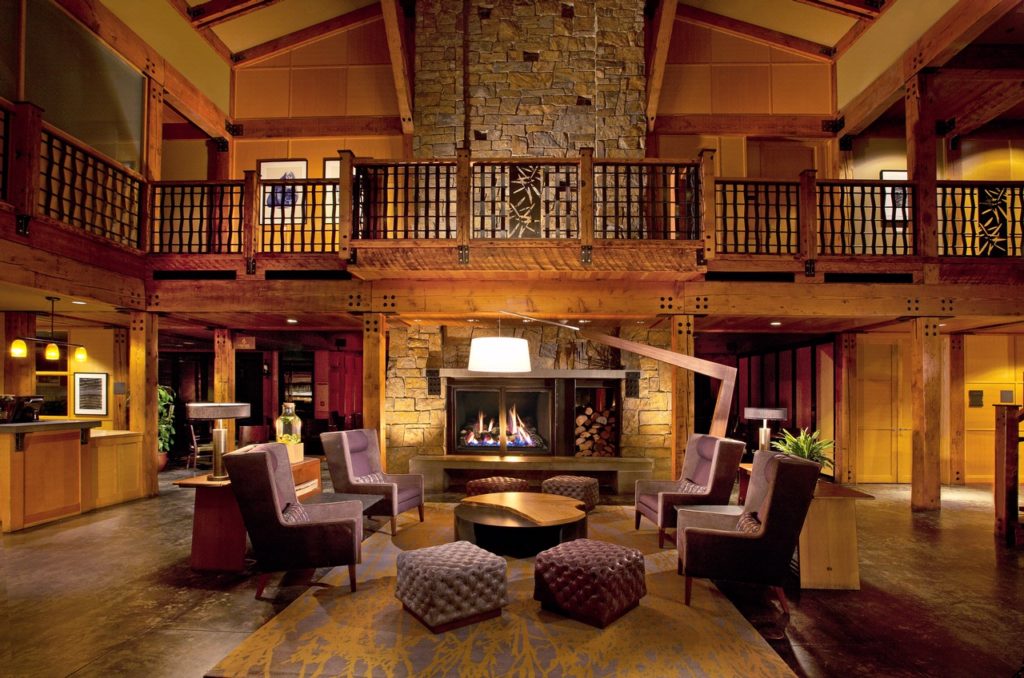 Tucked away in the heart of wine country, Woodinville's Willows Lodge offers a luxurious stay full of relaxation and self-care, complete with a glass of wine upon arrival. This 84-room resort boasts a large presence as soon as you enter the well-kept grounds, with its rustic yet elegant decor that creates a sense of romance and charm. Willows Lodge is home to the iconic farm-to-table restaurant, The Herbfarm, as well as the highly-regarded Barking Frog, which offers Pacific Northwest cuisine. Guests are welcome to enjoy hand-crafted cocktails at the Fireside Lounge, as well as live music Tuesday – Saturday.
Inside Willows Lodge Hotel Rooms
The luxurious resort offers 3 different types of guest rooms; nice, nicer and nicest. The nice room has an entrance view, while the nicer and nicest rooms offer views overlooking the courtyard or garden. The Northwest-style space includes an oversized jetted soaking tub, Mexican marble sinks, and a stone-trimmed gas fireplace. Each guest room also includes a voice-activated personal assistant, Roxy. Roxy can assist with sending requests to the front desk, playing your favorite music or acting as your alarm clock in the morning.

Since most people have different preferences when it comes to sleeping comfortably, Willows Lodge has a custom pillow menu for guests to fill out upon arrival.
Evening turn-down service is complimentary, inclusive of a delicious chocolate treat.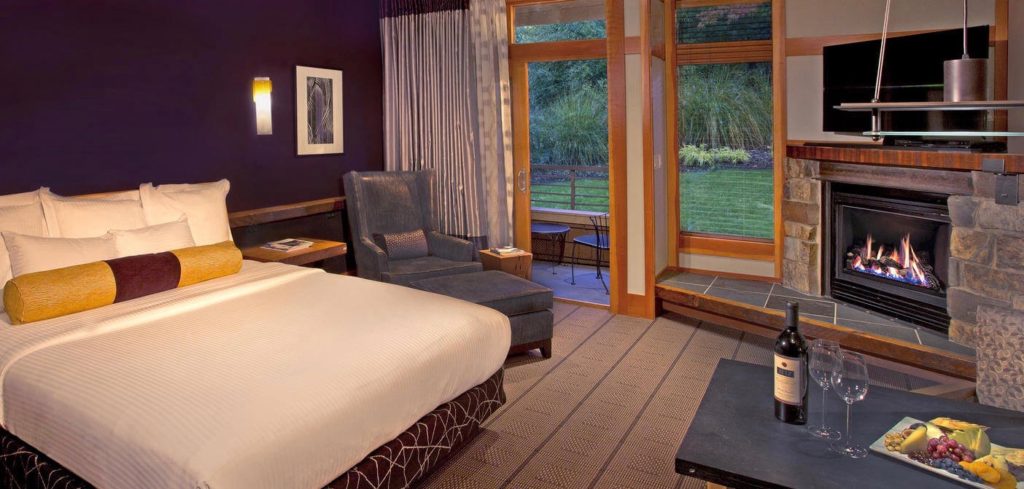 Willows Lodge Hotel Amenities
Willows Lodge offers complimentary bicycles and helmets for guests. There is also a shuttle van to nearby locations pending availability. These both come in handy with the location of the lodge being near wineries, breweries, distilleries, and the Burke-Gillman trail.
There are specific parking spots designated to Tesla and other electric cars. Four Tesla charging stations are available along with two ChargePoint EV stations for all other models.
An outdoor relaxation pool is available to all guests between 7:00 AM and 1:00 AM. The fitness room is next door to the pool in the main building, and is open 24-hours. The gym offers equipment like 2 elliptical machines, 1 treadmill, free weights, and more. Personal training sessions are available and can be scheduled with guest services.
Willows Lodge Full Service Spa
With a sizable local following, you know the spa is worth taking advantage of during your stay. There are five treatment rooms, including two treatment rooms for couples, an outdoor cabana for two with a private garden (permitting weather), and a new relaxation room that guests can enjoy in their soft robes and comfortable slippers. Flavored water and snacks are a great bonus, too!
Only the most knowledgeable aestheticians and spa therapists are used to provide spa services and many have been with the Willows since it opened in 2000.
The spa offers facial treatments, facial enhancements, massage treatments, body treatments, and intraceuticals (oxygen facials). Each treatment uses locally harvested ingredients such as local honey, salt and lavender.  Personal favorites include the massage because it is tailored to your personal needs and is 60 minutes (or more) of true relaxation, the signature facial, and the body polish, which leaves your skin silky smooth.
Woodinville Nearby Restaurants
Willows Lodge is home to two revered restaurants; the Herbfarm and Barking Frog.
The Herbfarm offers a nine-course dining experience, which incorporates seasonal foods and is paired with different local wines. The menu is finalized before opening each day.
Barking Frog offers a four-course tasting menu or items a la carte. With a newly remodeled kitchen, guests can enjoy watching their food being prepared as they anxiously await their meals. Executive Chef, Bobby Moore, uses local ingredients from Woodinville and Washington state to create fresh and seasonal dishes. Current menu items include; farmers kale salad, seared hudson valley foie gras, butter poached halibut, and beef ribeye. The warm atmosphere of the restaurant makes it desirable to stay after you've finished your main courses for dessert and coffee. The vanilla beam crème brûlée and chocolate peanut butter parfait are two delicious menu items that should not be passed up!
Activities in Woodinville
Aside from the many activities available to do at Willows Lodge, there are local wineries, breweries, distilleries and more so close by that they are accessible by foot, shuttle or bike.
Woodinville has over 100 wineries and tasting rooms, nine local distilleries, and five breweries. Willows Lodge can drop-off and pick-up guests in their shuttle van, pending availability. A delightful afternoon could include being whisked away by the shuttle to Januik winery for some wine tasting, a simple stroll to Woodinville Whiskey Company after that, and then walking to enjoy wine and flatbread at Columbia winery, all before arriving back at Willows Lodge.
There are four different golf courses nearby; Willows Run in Redmond, The Golf Club at Echo Falls, The Golf Club at Redmond Ridge, and The Golf Club at Newcastle. The concierge can assist with figuring out tee times and other necessary reservations.
The Burke-Gilman trail runs next to Willows Lodge and goes all the way to Seattle. the 26-mile trail is used for walking, running or biking. The scenery makes for a beautiful outdoor activity whether it's in the morning or afternoon. Don't forget that Willows offers complimentary bikes for guests.
Teatro Zinzanni is set to be joining the area in November, at the old Redhook brewery location in Woodinville. This form of entertainment includes cirque, comedy, and cabaret in a live experience.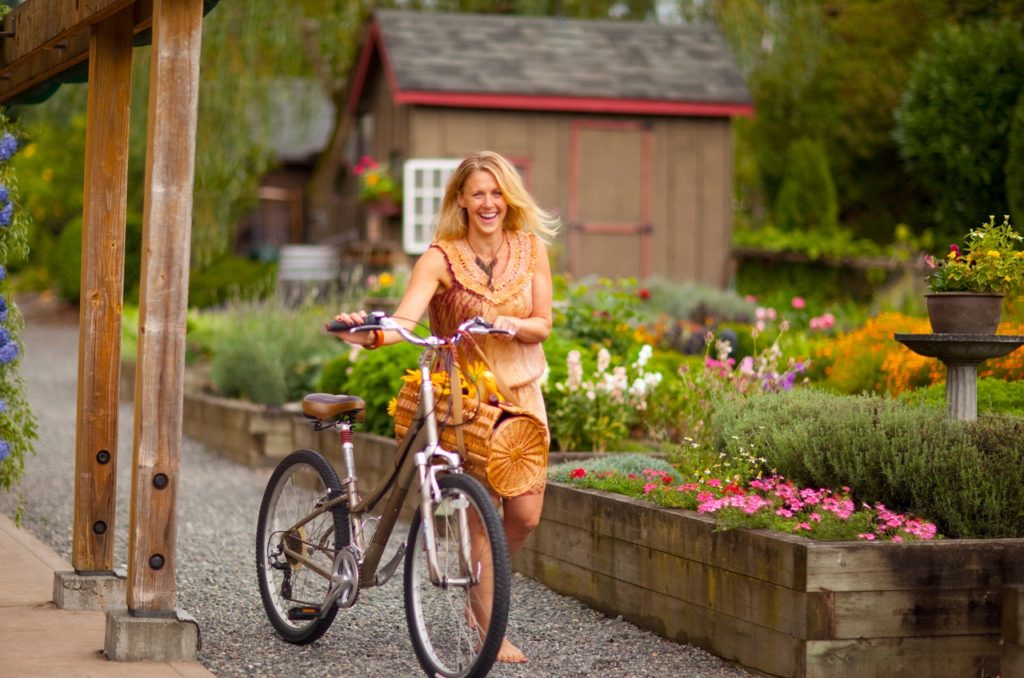 Pro Tip: Bring your pets! Willows Lodge is pet-friendly and offers amenities like a doggie room service menu, a doggie bed with turn down service including a night-time doggie biscuit, and a map with directions for walks. There is a $50 pet fee charge.
Nightly rates at the lodge start at $300.
Willows Lodge
14580 NE 145th Street
Woodinville, WA 98072
willowslodge.com