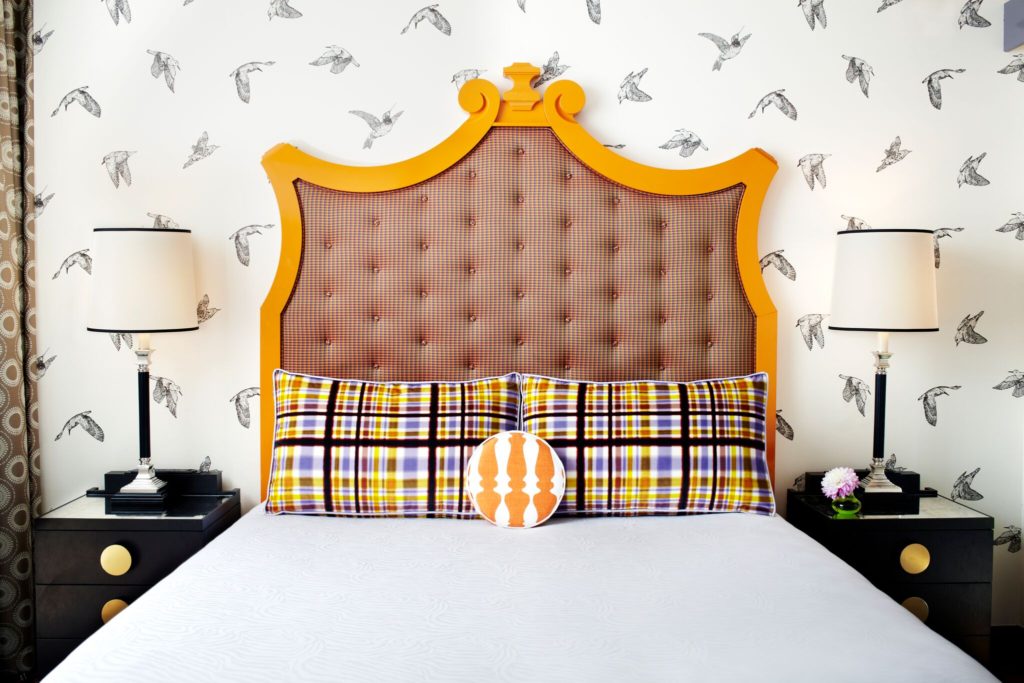 Tucked away in the heart of downtown Portland, Hotel Monaco is one of the city's finest boutique luxury hotels. Although it does not boast a large presence from the outside, you are greeted with a warm and intimate welcome with its' high ceilings, colorful furniture and quaint gathering space. Guests are welcome to enjoy a daily hosted wine reception from 5 to 6 P.M as well as the complimentary morning coffee and tea service. 
Inside Kimpton's Hotel Monaco Guest Rooms
The meat and potatoes of this hotel lie within the whimsical guest rooms, which mirror the spirt of Portland. When guests walk into their room they'll notice various Oregon birds in flight featured on the wall coverings. 

The color palette within the room incorporates the characteristic pine green colors of the Willamette Valley, the orange sunsets of summers and the gray skies of the long Oregon winters. Geometric fabrics, high-gloss lacquer finishes, touches of gold and solid chrome tie the room together.
Other fun elements in the room include a duck-footed desk lamp that pays homage to the University of Oregon, and an abstract art-piece that was inspired by Mt. Hood. 
These Guest Rooms are Large! The hotel has 139 suites out of the total 221 guest rooms. The King and Queen suites have sliding doors, creating a separated living room from the bedroom. These rooms are large at about 550 square feet. 
Kimpton's Hotel Monaco Hotel Amenities
During the summer, you'll want to take advantage of the complimentary PUBLIC Bikes that you can use to explore the city, located directly outside of the building. We also recommend grabbing a cocktail and dinner at Red Star Tavern, which is attached to the hotel. The restaurant is popular for its American fare that has a commitment to using local ingredients from Portland area farmers. 
Nightly rates at the hotel start under $300. 
Pro Tip: Bring your pets! They are welcomed free of charge at Hotel Monaco Portland. 
Hotel Monaco Portland
506 S.W. Washington Street Portland, OR 97204
www.monaco-portland.com
[wzslider]
Photo credit: Kimpton Hotels & Kelly Marshall