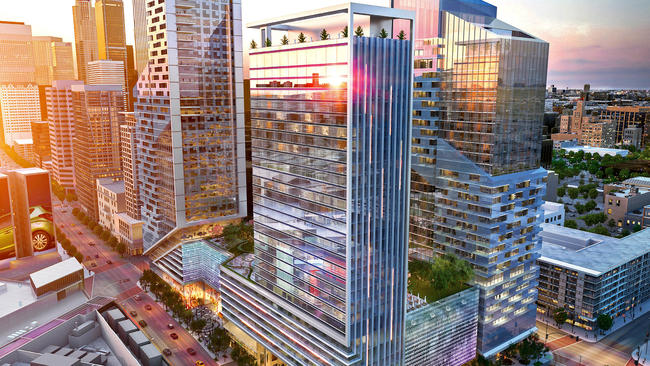 The W Hotel brand is already well known in Los Angeles thanks to popular locations in West Beverly Hills and Hollywood. Now the chain is preparing to add a third property in the heart of the city, directly across from the L.A. LIVE complex. W Hotel Los Angeles Downtown will be the chain's newest property in the city of Angels, designed specifically to be the anchor of a revitalized downtown area growing more exciting by the day.

Starwood Hotels & Resorts Worldwide is partnering with developer Shenzhen Hazens Real Estate Group Co. to create the new hotel space. The W Hotel property will be the first structure built in a much larger project that will also include 80,000 ft.² of dining and retail space, 650 condominiums, and three impressive towers. The development will be in the heart of the Los Angeles entertainment and fashion district, with the Los Angeles Convention Center and Staples Center nearby. The financial district will be just blocks away as well.
As for the hotel itself, it will feature the same high-energy music and fashion concentration as the other W Hotels in Los Angeles. Guests will enjoy an open lobby area where they will be encouraged to gather, mingle, and enjoy the latest in music, fashion, and design along with good company and world-class cocktails. The hotel will feature a 2,500 sq. ft. outdoor pool deck with bar and grill, a 5,000 sq. ft. spa, and 250 guest rooms and suites designed with luxury and comfort in mind.
Los Angeles is already abuzz with anticipation of the new downtown development project. W Hotel Los Angeles Downtown will be the anchor of that development, and a must-see destination unto itself.