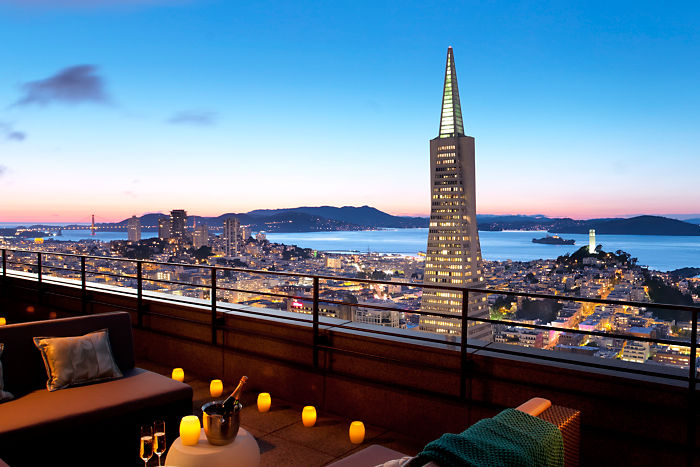 In 1987, Mandarin Oriental opened their first U.S. hotel in San Francisco. The new property was an opportunity for the hotel group to combine their reputation for legendary hospitality with San Francisco's reputation as one of the best cities to visit in the States. Needless to say, the hotel has more than met expectations.
Mandarin Oriental, San Francisco is centrally located on Sansome Street, very near Chinatown, the San Francisco Farmers Market, and dozens of high-end shops, restaurants, and theaters. The famous Nob Hill and Fisherman's Wharf districts are also within easy reach thanks to the city's extensive cable car system. Business travelers will be pleased to know that the hotel's neighborhood sits adjacent to San Francisco's business district for easy access.

Welcome to the Bay Area
Mandarin Oriental, San Francisco welcomes visitors to the Bay Area with some incredibly stunning views. Once you get off the elevator take some time to explore within the hallway. To your delight you'll find windows on both sides of the "walls" within the middle of the hallway. To be able to view the city from both angles at the same time is quite the experience. It doesn't hurt that the hotel occupies the third tallest building in the city. Whether you view San Francisco Bay under the bright morning sunlight or under the shimmer of dusk, you will be swept away by beautiful colors and textures unlike anything you have ever seen.
The interior of the Mandarin Oriental is just as welcoming. The hotel features 151 guest rooms and 7 luxury suites beautifully designed with your ultimate relaxation in mind. The décor and furnishings have been carefully chosen to provide a calming and serene environment that invites you to take off your jacket and stay a while. You will be able to easily relax and unwind in a French Deco atmosphere that makes you feel right at home.
Mandarin Oriental guest rooms and suites include the following:
luxurious cotton and terrycloth robes
24-hour room service
high-speed and wireless Internet access
private bar with stocked refreshments
in-room safe (safe deposit boxes at front desk)
tour tickets and sightseeing recommendations
complimentary morning newspaper
complementary parking (valet service)
complete concierge services
twice daily maid service
complementary overnight shoe shine service
same-day laundry with one-hour pressing.
Hotel staff strive to make sure no detail is left undone throughout your stay. You will be impressed by their dedication, hospitality, and friendliness. You might also ask staff members about second and third languages. The staff speaks a combined 17 languages including French, Japanese, and Vietnamese. During the stay staff members were available at every step of the way when needed, yet kept an appropriate distance to allow for a high level of privacy. This is a delicate balance that luxury hotels must juggle, and the San Francisco Mandarin Oriental exceeded with flying colors.
Hotel Amenities and Facilities
No world-class hotel would be complete without a selection of amenities and facilities discerning travelers enjoy. The Mandarin Oriental, San Francisco does not disappoint. For example, the hotel's third-floor Forbes Five Star spa and fitness center offers 8,000 square feet of pure luxury. The spa features four treatment rooms including a suite just for couples. You will be able to enjoy a full range of treatments including hand and foot rejuvenation and complete nail care.
The fitness center offers all the latest gym equipment as well as aromatherapy and a selection of boutiques enabling guests to purchase the products they need to continue the spa experience at home.
For your dining pleasure, Mandarin Oriental is proud to present Brasserie S&P with chef Adam Mali. The restaurant features a traditional San Francisco brasserie-style menu complete with cocktails and more than 550 wine selections. Brasserie S&P is known as one of the most lively and enjoyable dining experiences in all of San Francisco.
Mandarin Oriental, San Francisco has so much more to offer than can be described in mere words. Needless to say, you must make it a part of your next trip to the City by the Bay.
Nightly rates start at just under $700 per night.
Mandarin Oriental – San Francisco
http://www.mandarinoriental.com/sanfrancisco/
222 Sansome St
San Francisco, CA 94104
[wzslider]