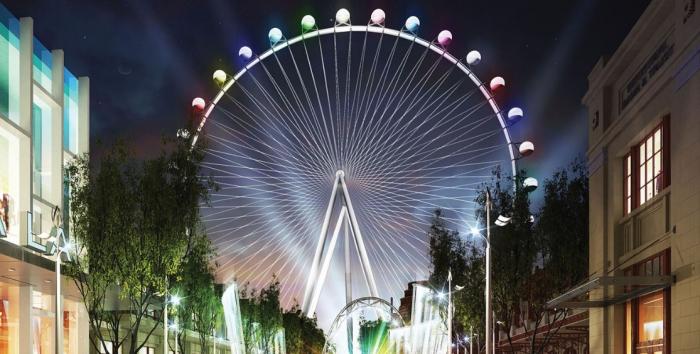 At your first glimpse of the 550-foot-tall High Roller, you might think it's just a high tech Ferris wheel. However, this is no Ferris wheel – it is the world's tallest observation wheel tasked with making sure guests enjoy the view of a lifetime. It also happens to be the centerpiece of the new LINQ shopping, dining and entertainment complex.

The High Roller takes visitors on a 30-minute journey allowing them see Las Vegas and the surrounding area in a way they have never seen it before. What's more, it is all done in high style. The observation wheel includes 28 glass-enclosed cabins handcrafted in Italy. Each cabin, capable of carrying up to 40 passengers, also features a dynamic music and video show that only enhances the experience. High Roller is a great option for your next party, family gathering, or corporate event.
Imagine yourself and a few close friends slowly climbing into the sky as the wheel rotates to load and unload passengers. Imagine the breathtaking show at dusk, when the Las Vegas strip comes alive in a sea of color. The 360° views of the city and surrounding desert are absolutely breathtaking. And with the journey taking 30 minutes to complete, a couple could even hold a wedding ceremony on High Roller. Now that would be memorable.
High Roller may very well be on its way to becoming the most talked about attraction in Las Vegas. Be sure not to miss it next time you are in town.
Tickets start at $25, and go up to $60 if you prefer to by-pass the line and go to the front at anytime during the day or night.
To learn more about High Roller visit the official website.