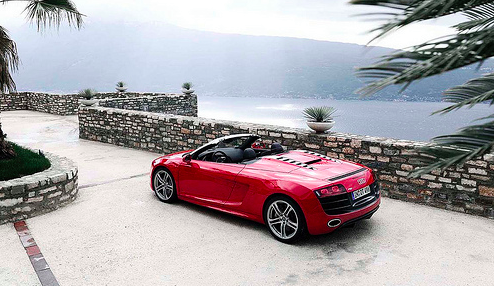 Have you ever dreamed of driving a Porsche 911 Carrera down a German autobahn at top speed? Have you ever wondered how exhilarating it must be to tour the European countryside – in an Audi R8 Spyder – on a road that has few speed limits? If so, Autobahn Adventures is just what you're looking for. The California-based company offers four different driving tours covering the most idyllic spots in Germany, Switzerland, Italy, and Austria.
The performance of the German sports cars is certainly the highlight of these tours, but there's more. All four tours are considered luxury travel events, so you'll be staying at the finest hotels and eating in wonderful restaurants. You will also see many of the major sites you would expect along the way. An Autobahn Adventure is a great way to see Europe and combine your love of fast sports cars at the same time.

Tours run every year from May through October. Tour prices begin at $6,995 per person – everything but airfare is included. All participants must be at least 25 years of age and have a valid driver's license at the time of the tour.
If you've been looking for a new way to see Europe that does not involve tour buses and large crowds, Autobahn Adventures is worth looking into. They promise to offer a unique experience that you will not get anywhere else. Judging by their list of vehicles, we would not dare argue.
Learn more by watching this video below or visit their website at www.autobahnadventures.com.