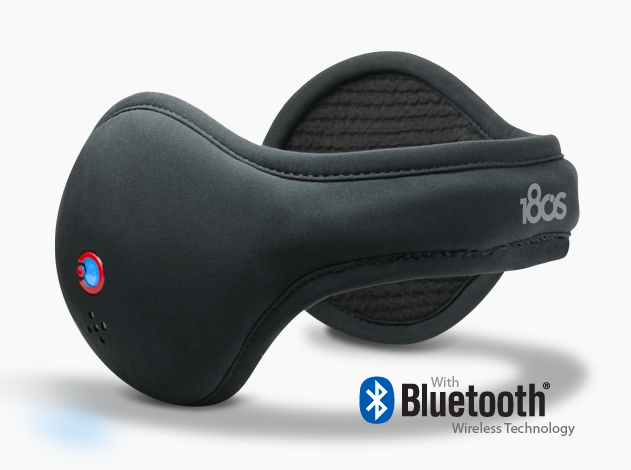 If you live in a cold weather climate, you know how valuable ear protection can be. However, why settle for a pair of standard ear warmers, which do nothing but keep your auditory orifices toasty warm, when you can do so much better? Thanks to 180s, you can now enjoy Bluetooth wireless technology built right into soft shell ear warmers without the discomfort of having to wear a separate set of earphones or buds.
180s Bluetooth HD ear warmer headphones are the perfect solution to the challenge of staying connected to your mobile phone in cold weather. Imagine keeping your ears warm while never missing a call, all with a pair of incredibly soft and comfortable ear warmers designed to hold up under the coldest of circumstances. But it gets better.

These new ear warmer headphones include high-def speakers for crystal-clear sound. Don't be surprised if you get better sound from them than you do from your factory headset. The folks over at 180s have really done a tremendous job with this product.
When you purchase the Bluetooth HD ear warming headphones you'll find they provide a comfortable fit for a variety of sizes. Moreover, for your convenience, they are easily collapsible for safe storage in your travel bag, purse, or briefcase. A USB cord is included for charging purposes.
Even though the winter season can be cold, it doesn't mean using your phone has to be inconvenient. Bluetooth technology, combined with one of the most comfortable pairs of ear warmers you will ever wear, makes using your phone during the winter as easy as can be. This is one product you should not be without if you live in a cold weather climate. And by the way, it makes a great gift for your loved ones too!
The ear warmers retail for $80 and can be purchased through the 180s website.
I'm very happy with the service and the quality and i recommend your website to my friends whenever i get the chance. ? Canadian drugs are only shipped from our affiliated Canadian dispensary.