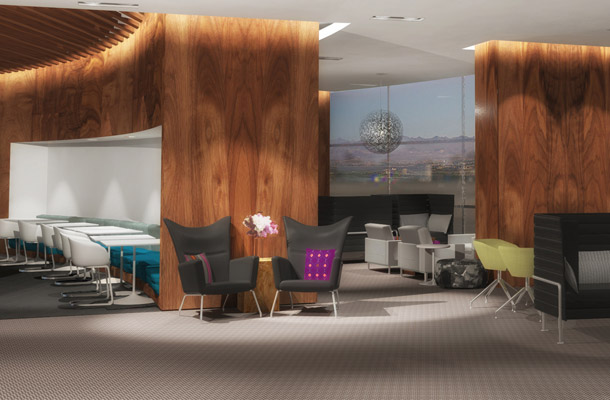 Described as a 'destination within a destination,' the first of a series of innovative lounges for American Express cardholders in the U.S. has opened its doors in Las Vegas McCarran Airport.
Already established around the world, the American Express lounge experience has made a natural progression to the U.S., giving cardholders the opportunity to use and enjoy a range of amenities within The Centurion Lounge.

Business and Pleasure
A warm welcome awaits travelers at the reception desk, followed by a world-class service. The team of diligent staff are available to guide and provide, whether it be an opportunity to conclude business or simply to relax before further traveling.
Quiet workspaces enhanced with tablets, computers, a range of printers and faxes, and high-speed Wi-Fi, offer the opportunity to catch up with work, while comfortable seating and bar facilities enhance private business meetings.
Quiet seating areas provide the opportunity to relax with a drink and take a look through the selection of newspapers and magazines on offer. Alternatively, indulge in seasonal gourmet fare, fine wines, and unique cocktails with discreet but attentive staff on hand to enrich the dining experience.
American Express card holders may purchase a one-day Access Key at the lounge for $50. If you hold a Centurion Card from American Express access to The Centurion Lounge is complimentary.
http://thecenturionlounge.com