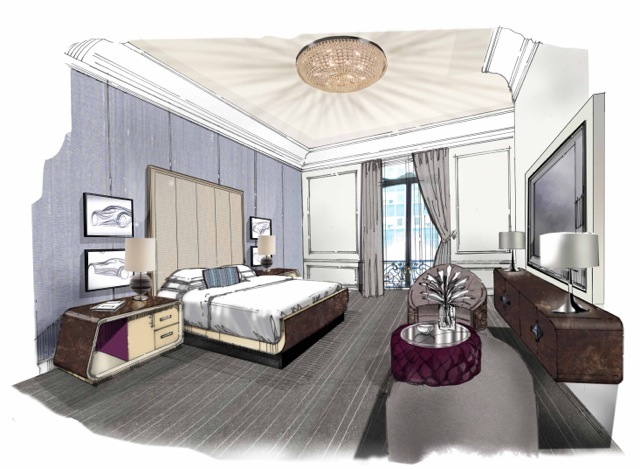 The recent global partnership between Starwood Hotels & Resorts Luxury Brands and Bentley Motors has been consolidated by the announcement that the Starwood run St Regis New York is debuting the one-of-a-kind Bentley Suite. In addition, the iconic hotel will launch the Bentley Mulsanne 2013, a pinnacle of luxury British motoring, as the leading vehicle in its house fleet. Customized exclusively for the hotel the Mulsanne embodies tradition with modern refinement.

The Bentley Suite combines the unique Bentley commitment to detail and outstanding craftsmanship with the renowned St Regis style and sophistication. High standards and a luxury experience
are guaranteed without losing the sense of heritage so valued by the St Regis brand and Bentley alike.
The Bentley Suite features an entrance hall, one bedroom, one and a half baths and a spacious dining and living room. Situated on the 15th floor with floor to ceiling windows, the suite's living area is tastefully decorated in creams, ivories and blacks set against the intense wood finishing's of the handcrafted furniture. Deluxe leather seating offers both elegance and comfort under the glittering crystal chandelier decorating the centre of the room. The dining room features a vast media wall with large TV and artwork displaying the Bentley brand heritage. The bedroom with a warm grey, ivory and aubergine décor complements a custom sleigh bed made with classic Bentley burled wood.
Floor to ceiling herringbone drapery frames the magnificent views overlooking Fifth Avenue and Central Park. Throughout the suite the décor gives glimpses of the sophistication that Bentley is famed for with the use of Bentley leather and wood. Coupled with the St Regis commitment to excellence and flawless tailored service to guests, a stay in the Bentley suite promises the ultimate in comfort and lavishness.
[nggallery id=105]