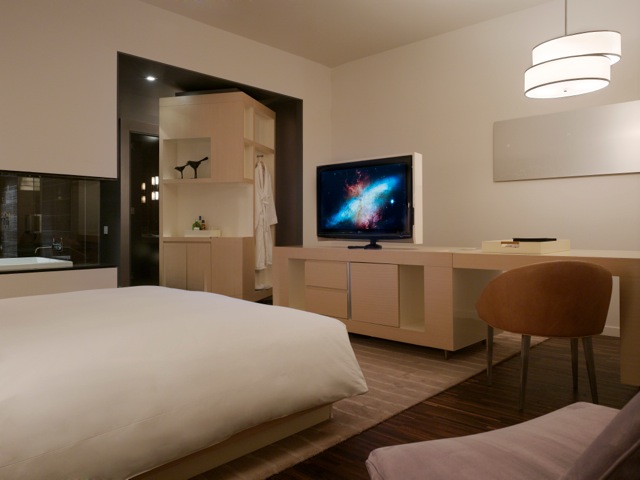 When you think of Wall Street you don't typically think of a luxury hotel setting. In fact, Wall Street has only one hotel: the new Andaz Wall Street. This down-town New York property is the latest addition to the 2012 Condé Nast Traveler Gold List, and for good reason. It combines the eccentric flair of New York's financial district with the style and sophistication demanded by world class travellers. Andaz staff provide the veritable "icing on the cake" with service described as both highly personal and completely intuitive.

One of the first things you'll notice at Andaz Wall Street is the 7-foot windows underneath incredibly high ceilings. You'll experience a feeling of spaciousness and freedom that's hard to find in New York. You'll have plenty of room to relax, unwind, and catch your breath after a busy day in lower Manhattan. Not only that, but the hotel's 253 guest rooms have been designed to provide a comfortable residential feel. The rooms are very unique. Even the smallest rooms have been thoughtfully designed making the most every inch.
For some added relaxation you can visit the hotel's spa for traditional treatments starting at basic, 15-minute packages and working their way up from there. The hotel provides a 24-hour fitness center as well, along with more than 14,000 sq ft. of unique public space including an outdoor courtyard, community kitchen, garden terrace, and residential style meeting rooms. Whether you're visiting for work or pleasure, Andaz Wall Street has been designed to be unlike any other hotel you've ever stayed at.
Finally, the Wall & Water restaurant offers a unique dining experience as one of the few direct-from-the-farm establishments in the city. Many of the ingredients used at the Wall & Water come from local growers in the Hudson Valley region direct to the restaurant. If you prefer to dine at multiple locations throughout your stay the hotel's location in lower Manhattan means you are just a few minutes' walk from restaurants and nightclubs of every cuisine and genre. If you're coming to New York City's financial district, the Andaz Wall Street awaits your arrival.
Andaz Wall Street
75 Wall Street  New York, NY 10005
[nggallery id=99]