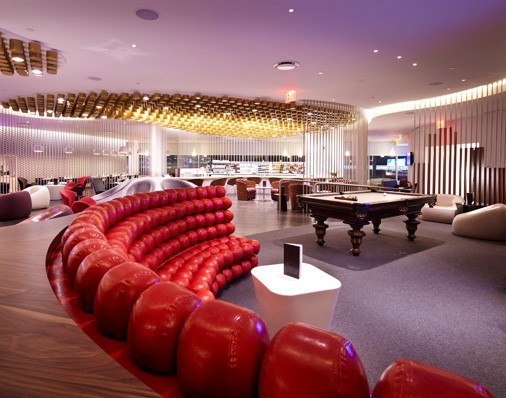 You've chosen to fly Virgin Atlantic — a great choice if you're looking to fly in style — and Virgin wants to reward you with their new lounge at JFK Airport in New York. The lounge combines everything you love about flying Virgin Atlantic with everything you love about New York City.

From the moment you walk in you'll be dazzled by the ambience and stylish design featuring modern, open spaces, beautiful colours and textures, and just the right lighting to set the mood.
Located beyond airport security, the Virgin Atlantic lounge provides you with the privacy and intimacy you desire. Enjoy a drink at the chic Uptown cocktail bar or relax on our oversized red ball sofa. If there's still work to be done, the lounge features an Internet bar with a staff ready to assist you in any way they can.
But be sure not to do too much work, or you'll miss the opportunity enjoy exquisite formal dining, engage in a luxury spa experience, or get some much-needed rest in your personal sleep suite.
Virgin Atlantic's new clubhouse at JFK airport has been designed with you in mind. If you're flying Virgin Atlantic, come in and enjoy.
[nggallery id=91]