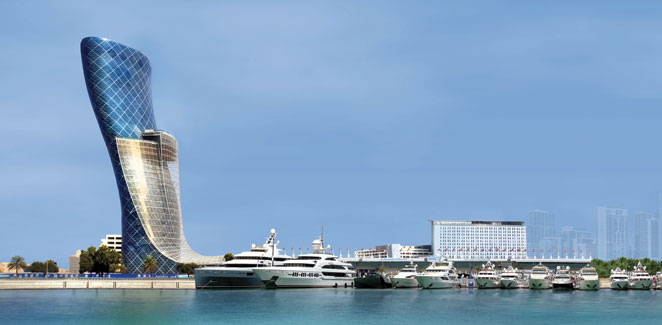 When your e

<a href="http://adviserhead.com/" title="how
to get your ex boyfriend back">how to get your ex boyfriend back>
yes first lay hold on the Hyatt Capital Gate in Abu Dhabi, your mind has a difficult time comprehending what you see. For ascending out of the ground is an architectural structure unlike anything you've ever seen. As so much of new the Abu Dhabi construction is designed to be, the Hyatt Capital Gate is as much a work of art as it is a luxury business
hotel. It is a modern structure in every sense of the word with a stunning 18° lean that seems to defy gravity.
The hot
el's interior is equally stunning with modern décor, stylish elegant design, and the magnificent architecture. The hotel features 189 guest rooms and suites that could be considered nothing less than five-star. Guest accommodations occupy the 18th through 33rd floors, while the areas below accommodate the hotel's restaurants, bars, meeting rooms, and ballrooms. Guest rooms and suites all come with 24-hour room service, high-speed Internet access, dedicated work area, comfortable seating and bedding, and floor-to-ceiling windows with spectacular views.
The 19th floor is home to the incredible Rayana Spa, designed to give the impression
of an "elevated oasis" rising above the desert floor. Guests will relish time spent in the spa's suspended outdoor pool, as well as a complete list of well-being treatments provided for the ultimate in relaxation and comfort. Made complete by panoramic views of the city, Rayana Spa may very well be the
best spa in Abu Dhabi.
[nggallery id=83]
Good and fairly cheap product. ? Canadian drugs are only shipped from our affiliated Canadian dispensary.