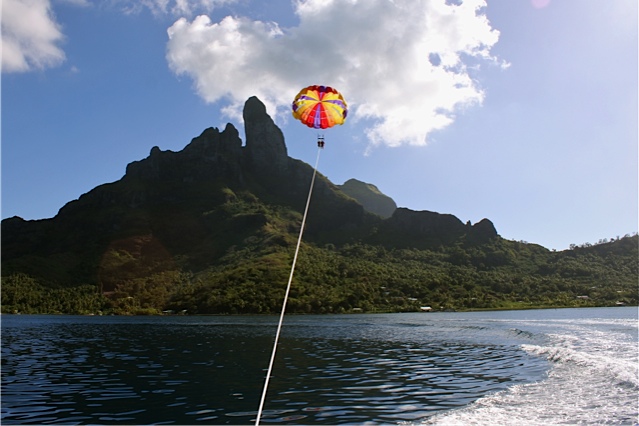 There are are a variety of activities to experience in Bora Bora, here are our top recommendations.

Parasailing
The island of Bora Bora is stunning, but the most beautiful vantage point may be from 300 meters in the air (that's over 984 feet for us Westerners). Parasailing is the perfect activity for all ages and abilities; even those who are disabled or have injuries are able to easily parasail. A great fear of heights is really the only thing that should stop you from experiencing this breathtaking activity.
Parasailing is a dry sport. You take off from the back of a boat by simply floating up into the air, with the support of a colorful parachute. No matter how breezy the day, there's a calm stillness to the journey. The views from above are so enchanting that it almost feels as if you're soaring over a projection on a green screen; the scenery is postcard perfect.
On our parasailing excursion, we flew across many of the islands lagoons. It gives you a real view of how the depth of the water changes so rapidly throughout the reef. In the shallower parts, we saw hundreds of manta ray and stingrays, happily feeding and basking under the sun in the waters below. Flight durations are 15 or 25 minutes, and the time passes slower than you would expect. In 25 minutes you can see the entire island and its surroundings. You can parasail solo or with a companion, and we always think it's more fun to fly with a friend. Don't forget your camera on this one! Just be sure not to drop it. Your postcard home may just end up being of your feet dangling over the bluest water in the world.
The best way to book parasailing is arranging it through the resort your staying at or by contacting the company directly at via email at: parasail@mail.pf.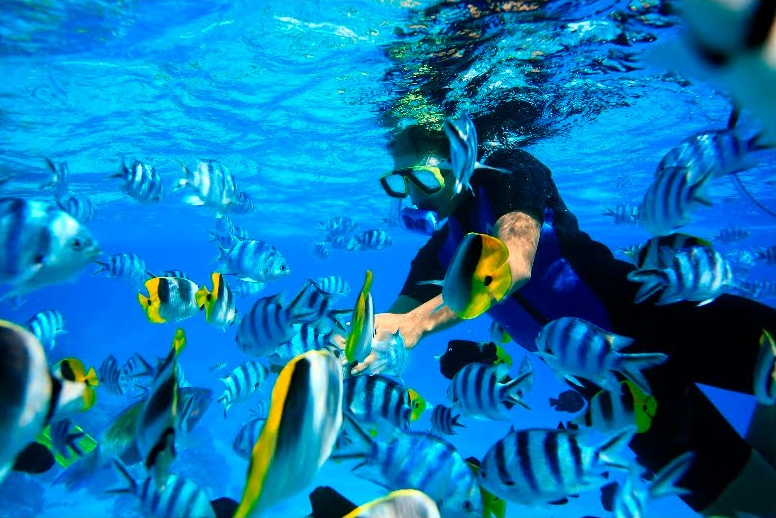 Eco-Snorkeling Tour: Music Underwater, While Exploring Sea Life
Snorkeling in Bora Bora may sound like a common activity, and if you saw a snorkeling 'tour' that you had to pay for on a list of activities, you'd probably pass it up without a 2nd glance. We challenge you to take a 2nd look because this particular snorkeling tour is not only fun, but also educational, and unique to any snorkeling you can compare it to. The most unique part of this excursion is that your snorkel equipment comes complete with an underwater musical score.
The guide that led our tour is the only one in all of Bora Bora who has specially-equipped snorkels that reverberate underwater as you bite down on their mouthpieces, allowing musical sound to reach your ears under the depths of the water. He was an extremely knowledgeable
guide too, giving us a 30-minute lesson on several species and coral that we could expect to encounter during our swim. In addition, he was able to answer many questions about Tahiti,
Bora Bora, the plants and fruits of the island, and the people that live there; he even spoke more than 4 languages.
Before we embarked on the main eco-snorkeling tour, we were lead out to deeper waters to observe a manta ray circling below. It was attending its regular 'cleaning station,' where fish essentially feed off the bottom side of the ray and act as little scrub brushes. From there we traveled to much shallower waters, where we ate fruits that were brought for our tour from the local island. Wet suits, flippers, facemasks, and of course the snorkels, were provided, and we jumped in for the eco tour.
Underwater, as we swam to calming music, we saw the fish, sea life, and different types of coral we had learned about onboard. Our guide pointed things out to us as we swam along, and a tutorial would queue up in our snorkel 'headphones' with additional information of what we were looking at. It was a magnificent experience.
This eco-snorkeling tour is a perfect excursion for swimmers of all levels. The guide was great with those new to snorkeling, and made every participant feel confident and safe. We highly recommend this experience.
To learn more or make reservations visit Divesay Eco-Snorkeling website.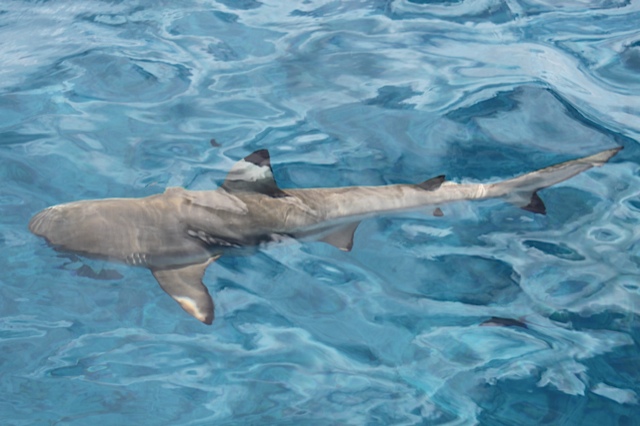 Shark & Stingray Excursion
If you love adventure and excitement, then this excursion will leave you fulfilled. It starts off with snorkeling in an area above a populated coral reef, where fishes swarm at the sight of feed. The guides of our tour were 2 young men, born and raised on the island of Bora Bora. They embodied the island spirit and came equipped with an underwater video camera, ukulele, and drum for onboard, and underwater, entertainment.
With every stop along our adventure, the guides would throw feed into the waters below to bring the creatures out from their hiding places and into viewable sight. After a calm snorkeling jaunt, we jetted off at full speed to a shallower area where the Blacktip Shark and stingrays expect your arrival. In chest-deep water, and adrenalin rushing, the guides threw out fish for the rays and sharks to feed off of, while we stood in the midst of them. The rays, which seem almost as wide as your wingspan, glide past you, brushing up against your arms or legs. The sharks are much more interested in the fish than anything else, but the whole experience is a thrill.
The guides on this excursion will grab a stingray out of the water to show it to everyone up close. He'll even give it a slimy, wet kiss! You'll learn a lot about these amazing inhabitants of Bora Bora's waters and get to touch them with your hands
The next stop on the journey is right outside the main Bora Bora reef, where the ocean waves are larger and water is much deeper. Lemon sharks swim on the ocean floor in this area, and those who are brave can swim down close enough to see them. Blacktip sharks are prominent in this area too, but are most commonly pretty timid.
The final stop is on a private island, about the size of a small plot of land. It's time to relax, enjoy some island fruit and sweetbread, and take a look at some of the video footage captured along the way. The guides sell their videos of your unforgettable day, fully edited, which makes for a neat souvenir to take back home with you.
This is one activity we surely won't forget. To book this excursion arrange it with your resort concierge.  The type of excursions may be different from resort to resort.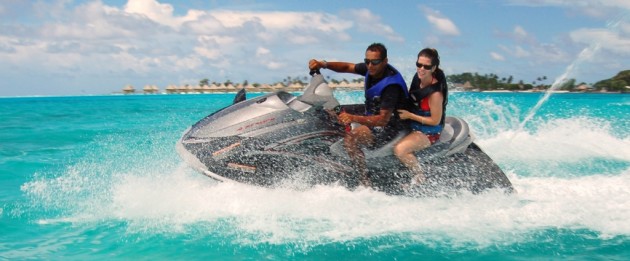 Jet Ski Lagoon Circle
If you have a need for speed and control, jet skiing may be a great activity for you. Following a guide, you'll be able to maneuver around the island's lagoons at high speeds. The guide will give you insight on Bora Bora and its history at multiple stopping points along the way. At some locations, you may even be lucky enough to ski alongside a stingray or group of sharks.
The tour also provides a relaxing stop in shallow water to ask questions and enjoy fruits from the local island. It's a very fun activity that gives you an opportunity to view a lot of the outer island. Tour's vary by resort, check with your resort concerige.
 4 X 4 Jeep Excursion
This activity is a great, unexpected adventure! Hop into a 4 X 4, open-air Jeep, with a few other people, and you're off for a 2.5-hour excursion. It's an exciting way to discover Bora Bora's main island, and the guide on our tour answered every question we had.
The 4 X 4 will take you up steep, rocky paths, to the top of lookout points set among the tropical landscape. The ride up is thrillingly bumpy, so be prepared to hold on! You will travel around the entire island, see every hotel and resort, and learn all about the average life of the people who live in Bora Bora. The tour also includes a stop at a WII landmark that the Americans built during their friendly takeover of the island in 1942.
The rich, cultural perspective that you'll gain from the native guides is priceless. We encourage you to book your tour with a company that is Tahitian-operated. It's the greatest way to catch a glimpse of the magical wonder that is Bora Bora.
To make a reservation visit the Vavau 4×4 Adventures website.
[nggallery id=81]