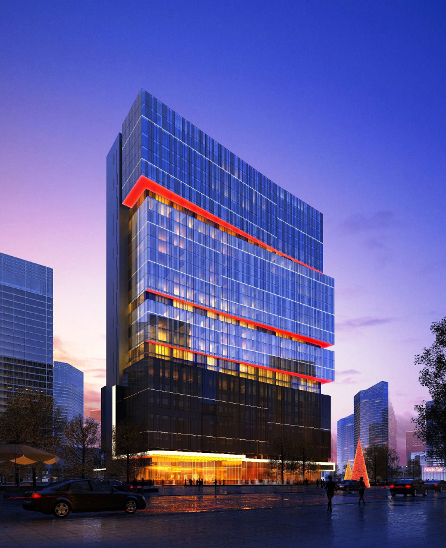 Visitors to Guangzhou, China now have a new luxury hotel option with the opening of the brand new Hilton Guangzhou Tianhe. The hotel, operating under the Hilton Hotels & Resorts brand, is the first of two being opened by Hilton in the south-eastern Chinese city. It is conveniently located close to the airport and only a few steps away from the city's East Railway Station.

The site for the Hilton Guangzhou Tianhe was chosen as a way to meet the needs of international business travelers in the region. The city is one of China's most advanced manufacturing cities, playing host to businessmen and women from around the world. With just over 500 luxury rooms and suites, the new hotel brings the strength of the Hilton name and reputation to Southern China. Luxury is the key word describing the hotel and its rooms, especially the Presidential Suite which is one of the largest in the city.
During their stay, guests will have access to the luxurious Eforia Spa, complete with a full line of well being treatments designed to provide you with the utmost in relaxation. Guests will also enjoy gym facilities measuring 360-square meter and complete with a temperature-controlled outdoor swimming pool. The third-floor facilities are open around the clock to accommodate the schedules of all the hotel's guests, regardless of when they come ago.
Six different restaurants and bars fill out the hotel's dining experience featuring everything from local Chinese cuisine to Pan-Asian to authentic Italian. Bar One will offer nightly live entertainment while the T Lounge & Bar features an outdoor alfresco restaurant with a light menu and delicious drinks. And because the hotel is designed to cater to business needs, it also offers plenty of ballroom and meeting space available to host business gatherings of all sizes.
Nightly rates start just under $200.
Hilton Guangzhou Tianhe
No.215 Linhe Xi Heng Road Tianhe
Guangzhou, China 510500
Tel: 86-20-66839999
[nggallery id=71]