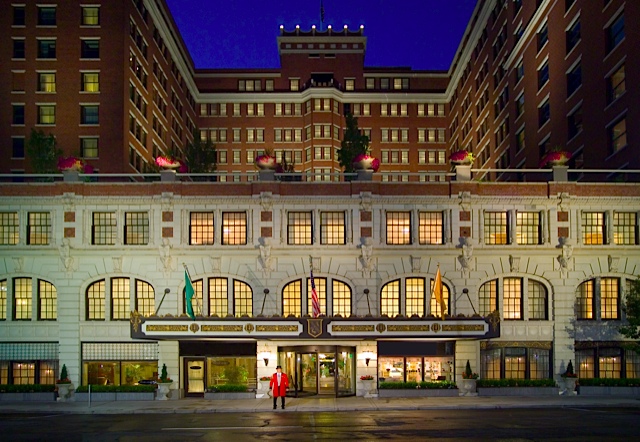 The historic Davenport Hotel in downtown Spokane, Washington has been a favorite destination for businessmen and luxury hotel connoisseurs ever since its opening in the early 1900s. But today the hotel has given us another reason to visit; a reason that has everything to do with protecting the environment. Earlier this year the U.S. Green Building Council awarded the hotel's famous tower LEED Gold certification for meeting green standards. It is the only hotel in the state of Washington, and only one of 33 in the entire world, to be awarded LEED Gold certification.

This achievement is nothing new for the Davenport, a world-class luxury hotel that has been leading the world for decades. When it was built the Davenport was as luxurious as the world's finest ocean liners. And since those early years, the owners have kept the hotel at the forefront of the hospitality industry. If you've never visited the Davenport, it certainly belongs on your list of "must see" properties.
A Brief History
The Davenport Hotel began as a small restaurant opened by Louis Davenport in 1889 following a devastating fire that ripped through Spokane. The destruction of that fire was so complete Davenport had to open his Davenport Waffle Foundry in a tent. From those humble beginnings he expanded to a store front as his name and reputation grew. Davenport eventually purchased the building next to his and hired a local architect to make him look like a single unit. So successful was this union that it caught the eyes of businessman who wanted a grand hotel to entertain guests.
Those businesses hired Davenport and his architect, Mr. Kirtland Cutter, to design and build the Davenport Hotel. With an almost unlimited budget and a world of ideas at their fingertips, the Davenport Hotel was born. When it finally opened in 1914 in was not only the world's most luxurious hotel, but it was also the only one to offer air conditioning, telephone service in every room, and hot and cold water at the tap – including drinking water. Quite an accomplishment for a young man who came to Spokane originally intending only to work for his uncle for the summer.
The Davenport's Accommodations
The Davenport Hotel actually consists of two properties: the main hotel and the Davenport Tower situated just across the street. Between the two buildings the Hotel offers several different classes of rooms including Davenport Kings and Queens, Davenport Deluxe Kings and Queens, Tower Kings, Tower Deluxe Kings and Queens, and the Davenport Penthouse Kings. The smallest of rooms is a spacious 330 square feet while the Davenport penthouses are each 500 square feet.
Every room in the hotel features the famous "Davenport Bed" with fine linens covers custom-made for the hotel. You'll also enjoy beautiful walk-in showers made of marble, luxury bath accessories from Lady Primrose, a 32-inch high definition television complete with in room movies and music, gorgeous hand-carved furniture, high-speed Internet access, LCD flat screen TV's, an in-room safe, and a work desk.
Amenities available to Davenport guests are nothing to laugh at either. During your stay you will be given access to a 24-hour business center, a 24-hour fitness center, complimentary town car service (within a 2 mile radius), concierge service, indoor pool and Jacuzzi, free local phone calls and Internet access, luggage storage service, shoe shine, and complimentary daily newspaper.
You have not 'stayed' at the Davenport unless you have enjoyed the Davenport Soft Peanut Brittle. It is hand made in the hotel's kitchen using their marble slab. It's the perfect treat, and even if you aren't staying in the hotel you can order it online.
Suffice it to say, if you come to Spokane you must come to the historic Davenport Hotel.
Nightly rates start under $150 per night.
The Davenport Hotel
http://www.thedavenporthotel.com/
10 South Post Street
Spokane, WA 99201
[nggallery id=70]