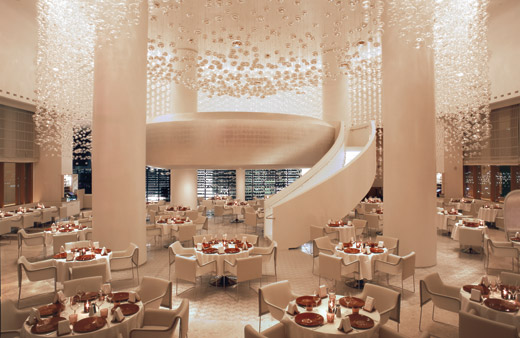 Imagine sitting at a table in a giant champagne glass, complete with bubbles, dining on exquisite gourmet food atop one of the most luxurious hotels in Las Vegas, Mandalay Bay. That's exactly what you get with Mix, the latest 3-star restaurant from the world-famous chef Mr. Alain Ducasse.
Mix is a contemporary bridge of American and French cuisine served in an exquisite environment of fantasy and elegance. From the extraordinary chandelier featuring more than 14,000 hand blown glass bubbles, to the 500 additional bubbles over the mezzanine, you'll what it's like to be a fine French champagne.

Following in that theme, the restaurant features more than 2,000 types of wine coming from approximately 1,100 different vineyards. So important is the wine selection at Mix that the wine shelves were designed to hold 5,000 bottles. The restaurant features 52 dining room tables, 16 patio tables, and a special chefs table which accommodates groups of up to 14 guests. Between the restaurant and lounge, total guest capacity is nearly 600.
The Tasting Menu
Of all the special features you'll love about Mix, nothing is more inviting than the special Tasting Menu designed specifically for the restaurant by Mr. Ducasse. This menu features some of his finest creations including Seared Duck Foie Gras with roasted green papaya, Tender Potato Gnocchi with spring pea puree, asparagus, and veal jus, and a delectable Filet Mignon Rossini with foie gras and black truffle. The Tasting Menu also comes with additional wine pairings and some truly sumptuous pre-desserts.
If you've never eaten at a three-star Ducasse restaurant Mix is a great choice to begin the adventure. Never before has there been a menu so worthy of worldwide attention than the Tasting Menu developed for our restaurant. It might possibly be the finest dining experience you'll enjoy during your stay in Las Vegas.
The Design
Mix designer Patrick Jouin created this restaurant with a single concept in mind: mixing the old and new of both American and French cultures in a single setting, to create an experience as sensually pleasing as the world's best champagne.
The interior design, which beautifully captures the idea of the champagne glass complete with bubbles, is perfectly complemented with an exterior deck offering the absolute best view of the Strip. The ambience is open and inviting, the staff friendly and pleasing, and the overall environment one that encourages a respite from the world outside over fine wine and good food.
The History
The history of Mix is intrinsically tied to the history of Mr. Ducasse himself. In 1984, a young Alain Ducasse was working at Byblos in St-Tropez, when he was sent on a trip by the restaurant's owner to work a private party at another location. His plane crashed en route, killing everyone on board except Ducasse. That harrowing experience caused him to decide life is worth living at 200%.
After a year of rehabilitation Ducasse went back to work on the French Riviera. It wasn't long before Prince Rainier of Monaco chose him to be head chef at the Hotel Royal's renowned Louis XV restaurant. After just three years the restaurant was awarded 3 stars by the Michelin guide, making it the only European hotel whose restaurant earned 3 stars. From there Mr. Ducasse went on earn a second 3-star rating at the 59 Poincare in Paris. With the addition of Mix, Mr. Ducasse now has a third 3-star restaurant to add to his impressive resume.
Mandalay Bay and Mix invites you to pay them a visit next time you're in Las Vegas. The restaurant serves dinner only, and reservations are absolutely required.