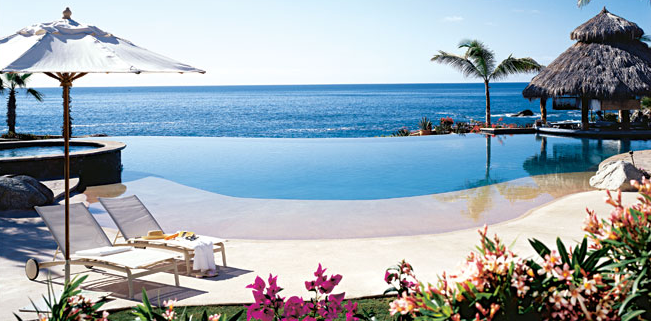 What better place to spend a honeymoon this summer than the beautiful tranquility of the Esperanza Resort in Cabo San Lucas. The Mexican layout combined with the beauty of the Sea of Cortez can make for the most memorable vacation or honeymoon of one's entire life. Love the resort? Partial ownership (Priviate Residence Club) or whole ownerships are also available.

With 60 villas, this is a paradise unlike any you could have dreamed of. As you walk along the private beach, you find yourself dreaming and wishing you could live there forever, which is why it has such frequent return guests. Whether your pleasure is indulging at the spa, or wandering among the wonderful talent displayed at the Art and Sculpture gallery, or even playing online thorugh the wireless internet that is offered, your desires can be fulfilled at one of the most magical and tranquil resorts to ever grace existence.
Owned by the professional and accommodating Timbers Resorts, Esperanza allows its guests to feel pampered and indulged, to feel young at heart and to feel like the most special person in the world. The scene of several weddings, many honeymoons and anniversaries, even business meetings, the Esperanza Resort allows for people of all ages and walks of life to feel at one with nature and success.
If you are wise enough to choose the Esperanza Resort, make sure you feast upon the cuisine available at El Restaurante, with a lovely view of the Sea of Cortez. The Mediterranean style cooking will leave you raving for months afterwards as you picture in your mind your next trip to the Esperanza Resort. The best wines from all over the world are served, perhaps even making you aware that you have it in you to become a wine connoisseur.
Opening in 2006, Esperanza quickly became one of the most frequented spa resorts ever. A trip to the beautiful seaside tranquil haven will tell you why.
Summer is almost here. Whether you are planning a dream wedding or simply want a vacation spot unlike any you have ever seen, travel down to the Esperanza Resort by the Sea of Cortez. Indulge yourself in the early morning hours as you sit out on your deck in a bikini or a pair of capris. Celebrate the memory of the day you had under the stars as you and your lover share a bottle of wine while taking in the sights and sounds of the water on the beach and the music from the resort bar.
Prices for nightly stays are priced at over $600 a night.
[nggallery id=6]